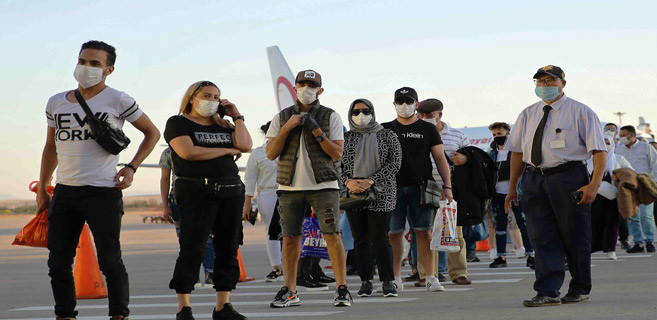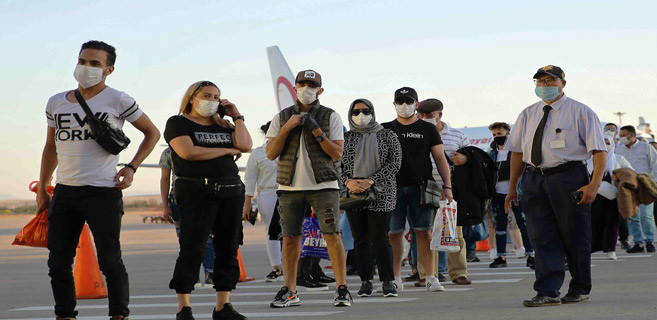 The Moroccan government is ramping up efforts to bring back hundreds of Moroccan citizens stranded overseas because of travel restrictions put in place due to the coronavirus pandemic.
A growing number of charter flights are organized by the Moroccan flag-carrier Royal Air Maroc (RAM) enabling Moroccan travelers to get back to their homes safely.
On Monday, 151 Moroccan nationals, who were stuck in Tunisia following the covid-19 global lockdown and borders closure, were flown home, ending their three-month confinement.
Another 450 Moroccan travelers, who are stranded in France, are expected to return this Monday to their homeland on three flights (two from Paris and one from Lyon).
Over the weekend, Moroccan authorities repatriated from Turkey 453 citizens aboard three separate flights and brought home 151 others from Mauritania.
The priority was given the most vulnerable passengers, including the elderly, children and those with pressing medical needs.
According to press reports, nearly 2,600 stranded Moroccan travelers will be brought home on 20 chartered flights (scheduled from Monday to Thursday) from Paris, Lyon, Montpellier, Brussels, Amsterdam, Rome, Tunis, Dakar and Dubai.
Hundreds of Moroccans had already been airlifted from Algerian cities of Oran, Algiers, Sidi Bel Abbes as well as from Sebta, Mellilia, Madrid, Barcelona, Malaga and Las Palmas.
All Moroccan travelers who are repatriated from overseas receive covid-19 screening and are quarantined for 9 days in order to ensure they are virus free.