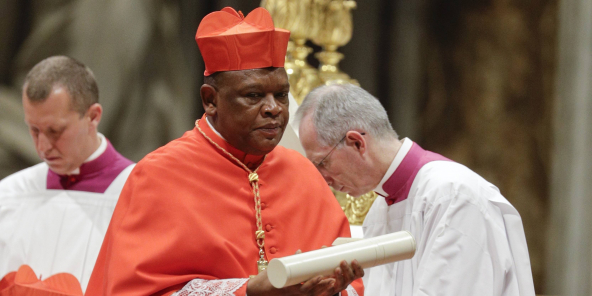 Cardinal Fridolin Ambongo Besungu, Archbishop of Kinshasa and Vice-President of the National Episcopal Conference of Congo (CENCO) raises his voice against the intransigence of the FCC in relation to the appointment of the President of the Independent National Electoral Commission (CENI) and the organic law proposals initiated by national deputies Aubin Minaku and Gary Sakata.
The head of the Catholic Church in Kinshasa spoke about the burning issues of the day in his homily on the occasion of the 60th anniversary of the independence of the Democratic Republic of Congo celebrated in meditation on Tuesday, June 30, 2020.
Throughout his homily, the Prelate firmly denounced the arrogant and contemptuous attitude adopted by the FCC to the detriment of the interests of the people.
"We cannot continue, after 60 years of the country's independence, to govern out of defiance, out of contempt for the people, out of contempt for the Catholic Church and the Protestant Church," he shouted.
While remaining firm, Cardinal Ambongo pointed out that the call to demonstrate will only be effective when the FCC persists in pushing through at all costs the proposals of the contested laws and the CENI presidential candidate not validated by the Catholic and Protestant Churches and civil associations.
"The days ahead will be difficult. And I want to ask the people here to behave in an orderly fashion. When the time comes, when they succeed in passing these laws and this person at the head of CENI, he will have to find us in their path," he said.