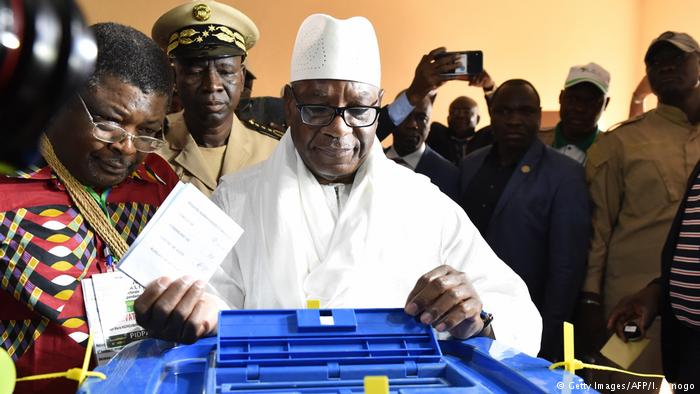 The mission of the five West African Heads of State led by the current President of ECOWAS, Mahamadou Issoufou, ended on Thursday evening, 23 July. If the latter does not "despair" of finding a compromise, for the opposition, the lines have not changed. ECOWAS has renewed its support for President IBK.
First to land in Bamako, Ivorian President Alassane Dramane Ouattara takes matters into his own hands. He immediately has a meeting in the airport's VIP lounge with his Malian counterpart who has come to welcome him. A small pro-government and anti-government demonstration is taking place in the city.
Then, in turn, the presidents of Niger, Senegal, Ghana and Nigeria arrived. They all go to the Marriott Hotel in Bamako. No time to lose, the elevator indicates floor 9. The closed-door session begins in the suite of the Ivorian president. Former Nigerian head of state Goodluck Jonathan speaks. He reports on his own mediation mission in Mali. His recommendations are validated: no question of resignation of President IBK, formation of a government of national unity, with the current Prime Minister Boubou Cissé remaining in office for the time being.
Then it was the heads of state lunch at the presidential palace during which "we spoke frankly to IBK" according to our information. Back to the hotel for a meeting with the presidential majority, civil society and the opposition. But the latter does not approve of the crisis pattern.
To clarify the situation, the Heads of State of ECOWAS, who are accountable to their counterparts in the organization who had not traveled, are convening an extraordinary summit of West Africa on Monday, announced the President of ECOWAS, Mahamadou Issoufou. This time, by videoconference. The Nigerien president does not despair of finding a compromise between all parties and he announced "strong measures to accompany Mali".
At the end of the meetings, Imam Dicko, a leading figure in the protest that has been calling for the resignation of President IBK and his regime for almost two months, said the lines had not moved.
''I have said it again and again, we are a standing people, we are not a submissive or resigned people. I'd rather die a martyr than die a traitor. The young people who lost their lives did n
ot lose their lives for nothing…I think that nothing has been done for the moment.'' He said.