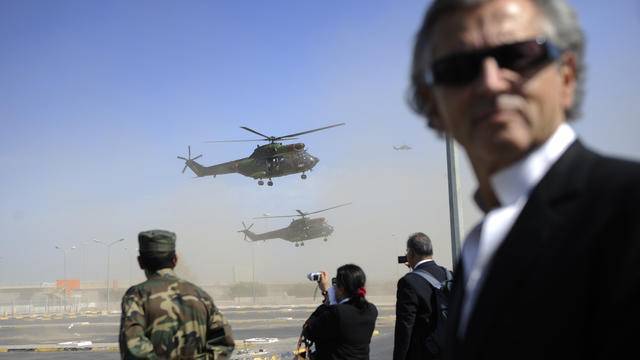 French philosopher Bernard-Henri Lévy was in Libya on Saturday, July 25, to investigate mass graves. His arrival aroused the anger of Libyan militias who attacked his convoy. The Prime Minister promised to shed light on this controversial visit.
Prime Minister Faez el-Serraj was in Turkey during the visit of French philosopher Bernard-Henri Lévy to Libya. He immediately assured that he was not aware of the visit and demanded the opening of an investigation. It is a long way from the time when the philosopher was seen as a friend by Libyans.
Having arrived by private plane at Misrata, 200 kilometres east of Tripoli, Bernard-Henri Lévy quickly reached his reporting ground: the mass graves of Tarhounah, 160 kilometres from Misrata, which are said to be the work of Khalifa Haftar's allies. But on the road, militias block the Frenchman's convoy and hurl anti-Semitic insults at him. Shots rang out.
Faced with the situation, Bernard-Henry Lévy decided to shorten his stay and to cancel the meeting with the Interior Minister, Fathi Bashagha, scheduled for the morning of Sunday 26 July. It is the latter, a native of Misrata, who is behind the philosopher's visit. A moderate figure, Fathi Bashagha wants to bring France back to the Libyan west, where the country has supported Khalifa Haftar.
Above all, this aborted visit reveals the deepening division within the Government of National Unity (GNA) in Tripoli, particularly between the Prime Minister, who is very close to Turkey, and its Minister of the Interior.