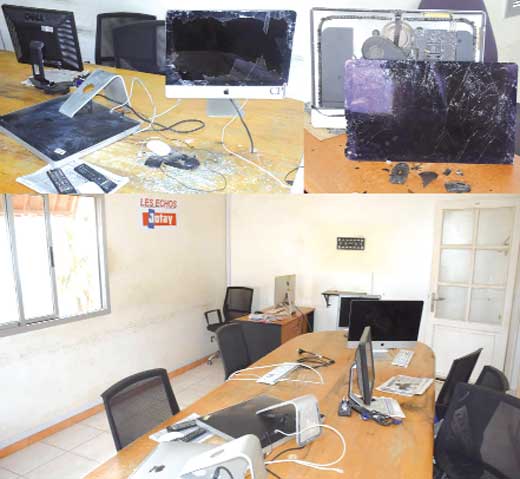 The premises of Les Echos daily in Dakar were vandalized Wednesday by supporters of Serigne Moustapha Sy, a religious leader, who blamed the daily's editorial staff for claiming that the religious leader had tested positive for coronavirus.
Several international organizations and Senegalese media have condemned the violent acts and are calling for sanctions.
Computers with broken screens, televisions face down, the small newsroom of the newspaper Les Echos still bears the traces of the vandalism of the previous day.
The newspaper's editor-in-chief, Mbaye Thiandoum, said the protesters presented themselves as talibés of Serigne Moustapha Sy.
On Monday, Les Echos claimed on the front page that Serigne Moustapha Sy, religious leader of the Tidian brotherhood and president of the Unity and Gathering Party (PUR), had been "struck down by Covid-19".
In a statement, the PUR debunked the news as "shameless lies" and warned the newspaper: "Leave him alone if you want peace".
Mbaye Thiandoum described the worrying threats as a great danger for the Senegalese press. "If this act goes unpunished, anyone who might feel defamed could attack a journalist in any way. People don't have to keep quiet because he's a marabout. So it is important today that such acts be denounced, and above all punished, so that tomorrow others will not be tempted to do the same thing,» he said.
Communication Minister Abdoulaye Diop assured that "such abuses (…) can in no way be tolerated.