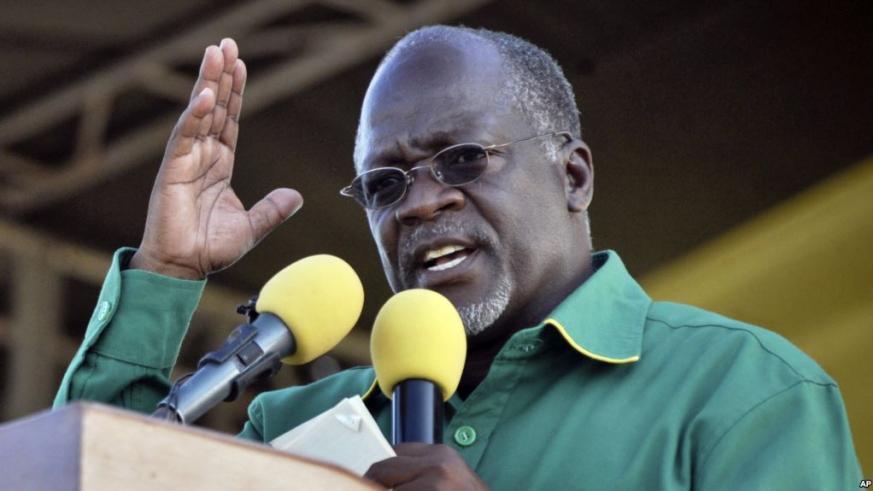 Lissu, 52, returned to Tanzania on July 27 with the ambition to "fight for the presidency", after multiple surgeries and a long recovery in Europe.
This former president of the Bar Association was shot several times in September 2017 at his home in Dodoma, the administrative capital, after participating in a parliamentary session.
Lissu's candidacy was unanimously approved Tuesday by members of Chadema, meeting in congress, after he won the party primaries.
"All the members of this assembly having voted for Tundu Lissu, I declare him presidential candidate of Chadema for the elections of 2020", announced the party leader Freeman Mbowe.
Lissu was serving as an MP when he was the victim of an assassination attempt in September 2017 in Dodoma, the administrative capital. Shot 16 times, he fled the country and had more than 20 surgeries while receiving treatment in Belgium.
Tanzania is due to hold general elections on October 28. The United States accused the ruling power of seeking to "stifle democratic standards" with a series of arrests in the ranks of the opposition.
President John Magufuli will seek a second term after he was selected as a candidate by his party, the Chama Cha Mapinduzi (CCM), early July.
Elected in October 2015, Magufuli is accused of having favored during his first mandate the restriction of public freedoms, of having shown authoritarianism and minimized the dangerousness of the new coronavirus in this African country.
Tanzania has not released official figures for Covid-19 since April 29 and, unlike its neighbors, has taken no specific action to combat the virus.
Since taking office, the president has tackled corruption but at the cost of authoritarian governance, which triggered accusations of human rights violations.
Opposition parties called for the formation of an independent electoral commission while indicating that they would not call for a boycott of the poll, unlike what they had done in 2019 during the local elections.