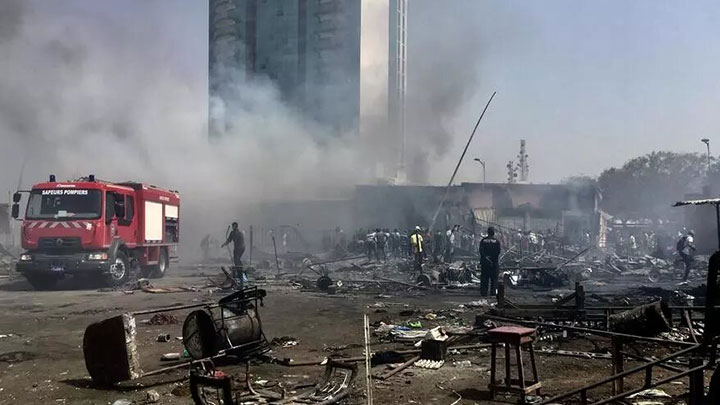 A violent fire ravaged the market of Pak Lambaye, in Dakar, during the night of Saturday to Sunday, causing considerable damage, but no casualties.
"Everything is burned. Everything became coal. We lost a lot of money," says Mamodou Fall in front of what remains of a stock of refrigerators that was barely saved. The losses are immense, he said.
It took ten engines and the mobilization of 102 firefighters to get the fire under control.
According to the emergency services on site, the fire started in a wood storage area before spreading to all the stores. For the moment, the cause of the fire is unknown. But this is not the first time the site has burned.
For fifty years, Fayçal Hilal has lived in one of the buildings surrounding the market. He deplores repeated fires related to the storage of wood: "This may be the sixth. Each time, it's the wood. The wood must be removed, it is not necessary to store it in the middle of the city.
Last January, Pak Lambaye had already been the scene of a fire as other markets were before it. In Dakar, these are generally an anarchic and dilapidated assembly of canteens and electrical cables.
Mamadou Diouf, an adviser at the Dakar town hall and the Plateau commune, acknowledges security problems. Several modernization projects have been launched by the city of Dakar and the Ministry of Urban Planning, concerning the Sandaga, Félix Eboué and Kermel markets. "This should help prevent this type of recurring incident," says the city councilor.