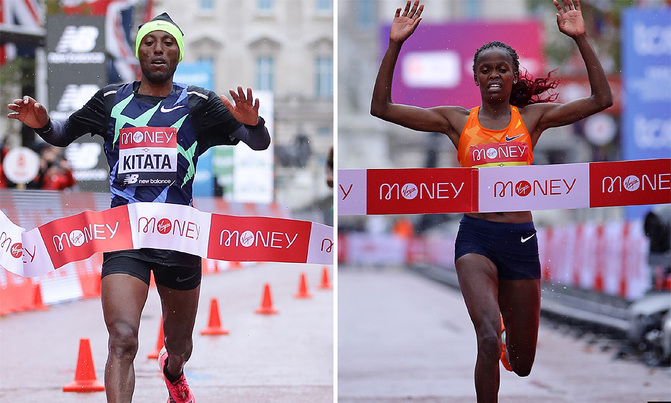 The world stars of marathons had an appointment this Sunday for the London Marathon. But due to the Covid-19 pandemic, the event was reserved for the elite of the discipline with a restricted course around Buckingham Palace and reinforced sanitary measures.
Great shock on the London Marathon: undefeated for seven years, Eliud Kipchoge cracked at the end of the race and finished only eighth, the victory going to the Ethiopian Shura Kitata after a Dantesque sprint. Kitata won in 2h 05 min 41 sec ahead of Kenya's Vincent Kipchumba and his compatriot Sisay Lemma.
The 24-year-old Ethiopian thus wins his first major victory after collecting the places of honor: 2nd in London and New York in 2018, 4th in London and 5th in New York in 2019.
In the women's category, Kenyan Brigid Kosgei won the race for the second consecutive year and maintains the world record.
For its 40th edition, the London Marathon could not have been more different: organized six months late, orphaned by its 45,000 regular participants and their wacky outfits, without Big Ben, Tower Bridge or even the slightest ray of sunshine. A marathon at the time of the coronavirus that took place in about twenty laps in a loop, along St James's Park and with an arrival under the balconies of Buckingham Palace for the hundred or so professionals present.
Aware of the strangeness of this edition and the risks in the midst of a pandemic, the organizers insisted on reinforced security measures and the "health bubble" created around the athletes and their support teams.
Regularly tested before and during their stay in London, all had to wear a connected device around their necks that emitted sound and light signals if distances were not respected. Nevertheless, all the participants took it off during the marathon, which was run neck and neck.