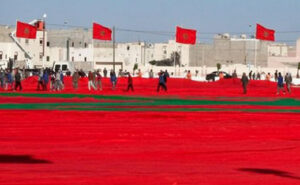 Leaders of Sahrawi tribes have condemned the creation of puppet entities in the Sahara aimed at undermining Morocco's territorial integrity, and its constitutional and human rights achievements.
The Sahrawi notables rebuke the provocative and hostile move made lately by Amanitou Haidar to set up a pro-Polisario entity in the Moroccan Sahara.
The separatists and their Algerian supporters resort each time to such provocative acts when their plots and lies are exposed on the international scene, said the leaders of the region of Laâyoune-Sakia El Hamra and notables of the tribes of the Dakhla-Oued Eddahab region during meetings held in Laâyoune and Dakhla.
As representatives of the populations of the southern provinces, the Moroccan Sahrawi tribes elders strongly condemned the desperate maneuvers of the polisario to undermine the region's stability and development by attempting to obstruct civilian and commercial traffic and freedom of movement at the El Guerguerat post-border.
They renewed allegiance to King Mohammed VI and to the Alaouite throne, saying that the southern provinces of the Kingdom enjoy security, stability, inclusive development, democracy and respect of human rights.
For their part, local Sahrawi elected officials and civil society activists had decried Amanitou Haidar's provocative move, which violates Morocco's penal code.
A judicial probe has been opened into her act, which represents an attack against Morocco's territorial integrity and prompts legal measures to protect the country's public order.
Aminatou Haidar and a handful of her local supporters serve the agenda of Polisario and Algerian regime. They abuse the freedom of speech and movement exercised in the Moroccan Sahara, a situation contrary to that prevailing in the Polisario-controlled Tindouf camps in southern Algeria wherein the sequestered Sahrawis are living in harsh living conditions, lacking water, medicine, food and denied basic rights.