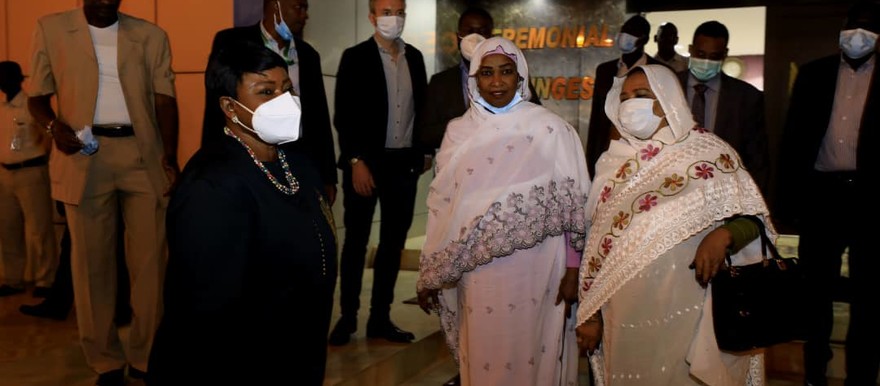 The Prosecutor of the International Criminal Court (ICC), Fatou Bensouda, has been on an official visit to Sudan since Saturday, October 17. This is the first official contact between the authorities resulting from the 2018 revolution and the ICC and it is an opportunity for Khartoum and the prosecutor to discuss the trial of crimes committed under the regime of former head of state Omar al-Bashir.
"This historic visit is proof of the total reform of the new Sudan". This is how Prime Minister Abdullah Hamdok summed up his meeting Sunday in Khartoum with Fatou Bensouda.
Later, in a statement, he reiterated that his country's "commitment" to "the achievement of justice" was "not only part of its international obligations" but also responds to "popular demands", one of the essential demands of the revolution of 2018.
Fatou Bensouda evoked a "double objective" for her visit. On the one hand, to explain the "complementarity of the work of the Court and the Sudanese judiciary on Darfur," and on the other, to request "the cooperation of the Sudanese authorities in gathering information" on Ali Kosheib, the Janjaweed leader, now detained in The Hague after he surrendered to the authorities in CAR in early June.
To this end, she met with the Minister of Justice, Darfur Nasredine Abdelbari, and then with the number two of the Sovereign Council, General Mohamed Hamdan Dagalo, known as "Hemeti", who confirmed that the Sudanese government was ready to cooperate with the ICC, without further details.
Three leaders of the former regime are still detained by the new government in Sudan, including former President Omar al-Bashir, prosecuted since 2009 by the ICC for war crimes, crimes against humanity and genocide in Darfur, and his two former ministers, Ahmed Haroun and Abdel Raheem Muhammad Hussein. All three are detained in Khartoum and claimed by the ICC.
As for the fate of the three prisoners, Abdallah Hamdok said that the authorities were ready to cooperate, without going further. Hemeti said the same thing, specifying having insisted "on the independence of the Sudanese judiciary". The transitional power in Sudan thus remains ambiguous because the country has opened its own investigation into the crimes of the former regime, including the war in Darfur. A coincidence or not, last week, the three prisoners were interrogated by the Sudanese prosecutor.