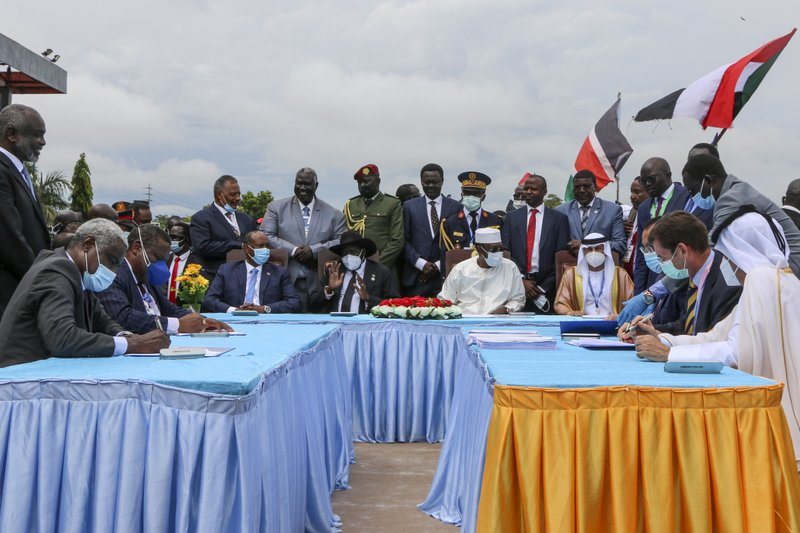 Sudan is trying to turn the page on the war a month after the signing of a peace agreement between the government and major rebel groups. This Sunday, some of the leaders of these armed movements returned to the country. They were welcomed by the prime minister.
Thousands gathered in the centre of Khartoum for the return of these rebel leaders. A jubilant crowd singing to celebrate the peace agreement. "We have been looking forward to this day," said Prime Minister Abdalla Hamdok as he greeted the leaders of the various armed movements. Malik Agar, Minni Minnawi, Yassir Arman, Gibril Ibrahim All arrived in Khartoum this Sunday.
For some, this is the first visit to Khartoum in nearly twenty years. From today, we will be part of the transitional government," said al-Hadi Idris, leader of the Sudanese Revolutionary Front, a coalition of rebel groups. And we will bear the consequences of his policies," he added. He also called on those who have not yet signed the peace agreement to do so. Two important rebel movements have indeed remained on the sidelines… but have started discussions. "We have come to make the peace agreement a reality on the ground," said Minni Minnawi, leader of a faction of the Sudan Liberation Movement.
Upon his arrival, the leader of a faction of the Sudan Liberation Movement reminded the authorities that crimes committed in Darfur will have to be punished, according to the terms of the agreement. A reminder then the authorities in Khartoum announced a few days ago a general amnesty, except for those accused of crimes against humanity and genocide.
The rebel leaders also met with General AbdelFattah al-Burhan, the head of the Sovereign Council, the highest authority charged with overseeing the transition.
The return of these rebel leaders is seen as an important first step in the implementation of the peace agreement signed last month. The different parties will now have to work on the formation of a new government and a new Sovereign Council that will include these rebel leaders.