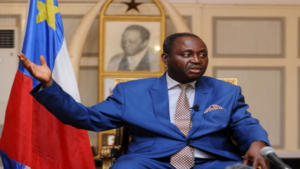 The decision of the Constitutional Court to invalidate the candidacy of former Head of state François Bozizé is causing reactions. On Monday, opposition and authorities responded through communiqués.
The opposition emerged from its silence, commenting for the first time on the Constitutional Court's decision with strong words. It claims that the invalidation of the candidacy of François Bozizé is linked to the policies of President Touadéra. The opposition coalition COD-2020 also condemns "acts of persecution against him.
It therefore calls for the cessation of what it considers hostilities against opposition leaders and activists. Finally, it once again calls for a national dialogue to ease tensions three weeks before the elections.
The authorities also took the floor on Monday in a statement. They denounce the "bellicose" nature of the remarks made by François Bozizé on the occasion of several trips to the region as well as his desire to challenge the electoral process. "These statements and actions of Mr. Bozize Yangouvonda François Yangouvonda do not fall within the legitimate aims of freedom of expression and partisan pluralism which should in no way jeopardize the protection of national security and public order," said government spokesman Ange-Maxime Kazagui.
The authorities also say that François Bozizé travels in the region with a group of armed men who exceed the statutory number of his guard. The communiqué therefore calls on the former head of state to show wisdom, "to comply with the decision of the Constitutional Court" and "to follow the example of other political actors for the unimpeded conduct of the electoral process to allow the Central African people to freely and peacefully elect their leaders on December 27, 2020".
The government also wants to reassure the population and assures that it "will not allow the country to plunge back into chaos" and that it will use all legal means so that "force remains the law.