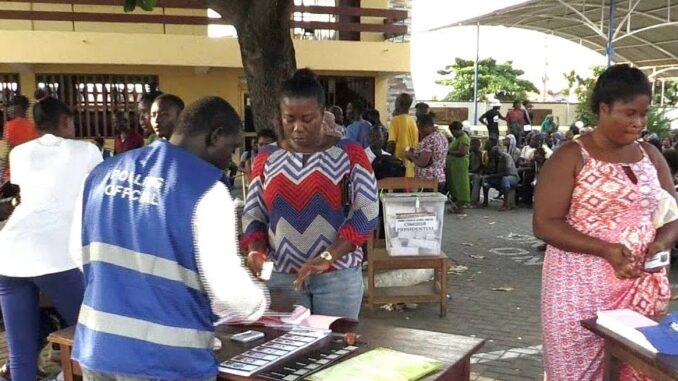 Ghana is still awaiting the verdict of the ballot boxes. The announcement of the results of the legislative and presidential elections was postponed on Tuesday evening by the Electoral commission, while the two main candidates for the supreme magistracy are already claiming victory.
They waited for results that did not come. Ghanaian voters remained glued to the soap opera of regional counts announced in dribs and drabs. And while partial figures were coming in from all 16 regions of the country, the capital Accra remained silent as the election commission did not want to confirm them.
No further details were revealed at a press conference later in the day – where nothing was announced. A spokesperson for the commission remained less than five minutes before announcing the postponement of the proclamation of results. The counting of ballots is still ongoing. This news has notably caused frustration among journalists. No new date for the announcement of the results has been announced this time.
This is a back-pedal for the Electoral Commission and a disavowal for its new president Jean Mensa. It must be said that the decision to proclaim the results in 24 hours had surprised more than one, because in normal times it takes three days. But this year, the Commission had decentralised the results transmission system receiving data from the counting centres in the 16 regions of the country instead of the 275 electoral districts. And this was supposed to speed up the whole process.
Elsewhere in the political arena, the two presidential candidates are vying for victory. Outgoing President Nana Akufo-Addo said Tuesday he was sure to win. His rival John Dramani Mahama warned him against any attempt to steal the presidential election.