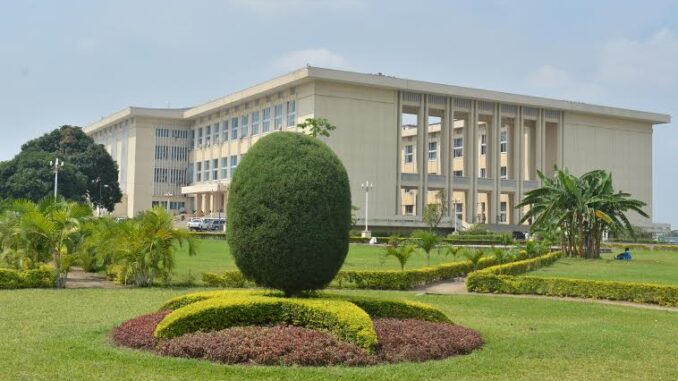 As pro-Tshisekedi deputies and others in the opposition want to bring down the office of the National Assembly hitherto controlled by the Kabila camp, clashes between militants from both sides have erupted in the parliament building. Tension fell back in the evening
The office of the National Assembly led by Jeanine Mabunda will not fall this Wednesday evening. The dean appointed by the petitioners called for calm after an eventful day. He proposed that the petitions against the office of the Assembly be considered on Thursday.
For the second consecutive day, the situation was very tense this Tuesday in the National Assembly. Pick-ups, roadblocks… Hundreds of police officers were deployed this morning. The tension was exacerbated when Jean-Marc Kabund, the interim president of the presidential party, the UDPS, joined in the hemicycle deputies demanding the resignation of the pro-Kabila president of the Assembly and her office (the collegial body that runs the lower house).
For petitioners such as Daniel Safu, there are blockages by the leaders on several issues: "The work and parliamentary production suffered from an irrational lethargy. There was no intention to move things forward".
Broken chairs, destroyed furniture… A real tidy fight broke out in the National Assembly between militants of the president and those of his predecessor. Those in the Kabila camp wanted to prevent the holding of the plenary session that was supposed to examine the petitions filed last weekend. It was officially convened by the secretary general of the National Assembly, Jean Nguvulu. But there is some confusion about what has happened in recent days.
Despite these clashes, a quorum was reached for the pro-Tshisekedi. Those close to the President of the Republic even added that the 279 deputies out of 500 who were present in the hemicycle yesterday, according to figures released during the plenary session, are ready to join them.
In Jeanine Mabunda's entourage, it is always assured that the pro-Kabila elected representatives, officially close to 350, will close ranks this Thursday to save the current office. The political family of Joseph Kabila will, in the hours and days to come, organise different meetings to refine its strategy.
The joint United Nations Office for Human Rights in Kinshasa "strongly condemns the violence in and around the Palais du Peuple, which is incompatible with the demands of a democratic society.