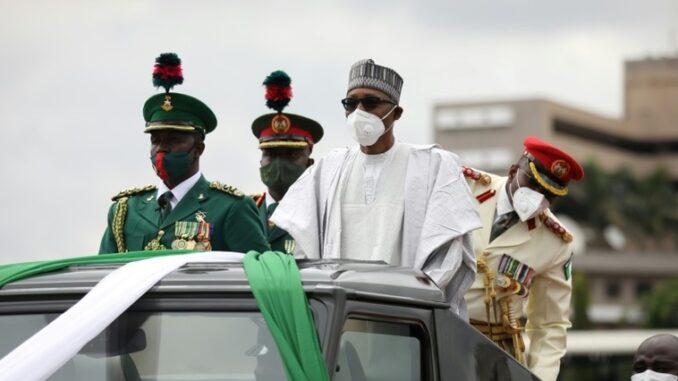 On Tuesday, January 26, Nigeria was the scene of a spectacular sweep through the ranks of the army. The Head of State, President Buhari, decided to replace the main leaders of the Nigerian army. Nigeria, the most populous country in Africa, is facing serious unrest, particularly in the northeast of the country.
Major General Irabor is appointed Chief of the Defense Staff; Major General Attahiru takes over the Army; Vice-Admiral Gambo now heads the Navy; Major General Amao is the new No. 1 in the Air Force.
These men replace outgoing officers who had been in office since Muhammadu Buhari's first democratic term in 2015, a longevity unprecedented at this level. Among these departures, Tukur Buratai was the most contested figure, notably for having repeatedly claimed victory over Boko Haram. Each time, these announcements were contradicted by the reality of the terrain around Lake Chad.
Most recently, Tukur Buratai's responsibility as army chief was pointed at the shooting of civilians at the Lekki tollgate in Lagos during peaceful demonstrations against the SARS [Special Anti-Robbery Squad] police unit.
By replacing all his military leaders, President Muhammadu Buhari ended weeks of tension with his presidential majority. Indeed, the House of Representatives but also the Senate demanded their dismissal to give a boost to the security of Nigeria. Until then, Muhammadu Buhari had always seemed to ignore the repeated criticism against his staff, which was unanimous against him. The Nigerian Governors' Forum had also suggested that a new military strategy be adopted.
In the communiqué issued by his spokesman, the Nigerian head of state preferred to salute on Tuesday "the impressive successes" of the four outgoing military chiefs and their contribution to the peace effort in Nigeria.
It is however unlikely that their departure will herald a radical improvement in the security situation in Nigeria, because the difficulties of the army – which lacks resources – are above all structural.
With the replacement of the four heads of the defense forces, former General Muhammadu Buhari hopes to regain control.