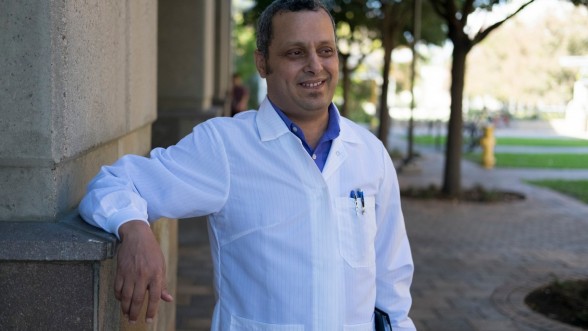 The global community of scientists is excited about the research spearheaded by UC Irvine immunology professor Lbachir BenMohamed who is working on a vaccine that can be used against many strains of the coronavirus.
According to several US TV channels' reports, the promising research conducted by Lbachir's team could be "a game changer" in the fight against the covid-19 pandemic and variants of the SARS-CoV-2 family.
Lbachir is founder of the Laboratory of Cellular and Molecular Immunology at the University of California, Irvine. He says that the universal vaccine his team is developing would be a "backup" to the vaccines currently used to curb the spread of the virus.
The UCI vaccine focuses not only on spike protein to trigger an immune response, like Pfizer's and Moderna's, but also on two dozen other proteins that can prompt an immune response, explained Prof. Lbachir on the project which is raising hope to save lives and counter new pandemic outbreaks.
Lbachir, 53, is a native of the Southern Moroccan region of Guelmim-Oued Noun wherein he received his primary and secondary education. After obtaining his baccalaureate in biology, he pursued his higher studies at school of Sciences of Ibn Zohr University of Agadir.
In 1989, he got in bachelor degree in biochemistry before heading to France where he pursued his academic studies at Paris VII Jussieu University and received his post-graduate diploma in Immunology.
In 1997, he received his Ph.D. in immunology from the Paris-based Pasteur Institute where he worked as the key developer and co-inventor of a new promising vaccine strategy that uses mucosal delivery of clinically approved lipopeptide molecules.
Now, Prof. Lbachir is head of the Laboratory of cellular and molecular immunology at the University of California.