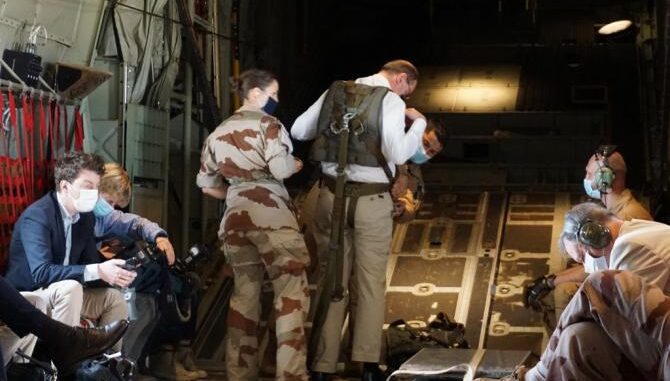 The French Senate organized this Tuesday, February 9 the first debate on the war in Mali. In front of the senators, and a few days before the Ndjamena summit, where the executive will announce its orientations, the Minister of Armed Forces Florence Parly and the Minister of Foreign Affairs Jean-Yves Le Drian defended the balance sheet of the Barkhane force and answered a flurry of questions on the future of the French operation.
Florence Parly, Minister of the Army and Jean-Yves Le Drian, Minister of Foreign Affairs, lifted a corner of the veil on what will be said in the Chadian capital. If a year ago, the Pau summit had the ambition to initiate "a military surge in the Sahel," the one in Ndjamena, to be held on February 15 and 16, will be one of "diplomatic, political, and development surges," insisted Jean-Yves Le Drian.
By using the term start, Paris implies that in its view, things are not going fast enough. For France, the Ndjamena summit should give a boost first on a diplomatic level by strengthening cooperation between the G5 countries and the countries bordering the Gulf of Guinea, and by promoting better cooperation with Algeria and Morocco. But this surge must also be political. Paris thus hopes that the Malian authorities will speed up the implementation of the Algiers agreements.
The Minister of Foreign Affairs nevertheless welcomed the holding of a long-awaited meeting of the Monitoring Committee of the Algiers Agreements this Thursday in Kidal.
As for the Barkhane force, it will keep its role, for the time being, explained Florence Parly, the French Minister of Armed Forces. "Barkhane is not eternal. But in the short term, we will stay, which does not exclude that the modalities of our intervention evolve, adjust, some would say, on the contrary. The Sahelian countries want us to continue to help them, and the results obtained allow us to accentuate the strategy of accompanying the local armies with our partners and allies on the ground. »
The operational military partnership seems to be the objective of this year 2021. Barkhane, like the Europeans of the Takuba force, will thus continue massively to support the Sahelian armies in combat, so that they can strengthen themselves and win victories.