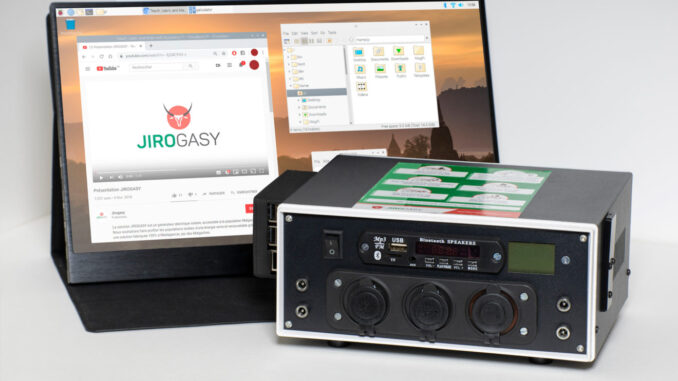 In Madagascar, a team of "Géo Trouvetou" has just created a 100% solar-powered computer designed entirely on the Big Island. Far from being a gadget still in the running-in phase, the computer has already been ordered in 24 copies to equip schools in the bush and health centers in particular, which are deprived of electricity.
The prototype of the second version of the solar computer has just been assembled and is already being presented to its first buyers by the design team. An all-in-one PC that runs under Windows 10. The reactor of the beast: a 64 GB hard disk, an Intel Celeron processor and the 4 GB of RAM, is hidden in its 21-inch screen. The batteries are integrated under the chassis and connected to solar panels. Autonomy of the computer: 5 hours without sun.
A great first in Madagascar, that we owe to the Kasay brothers, the founders of Jirogasy, a start-up created in 2018. The genesis of this adventure is told by Yann, the eldest, 33 years old. "We started from scratch with a single 3D printer to allow us to create some plastic parts and to be able to create our first solar kits that we manufacture here.
We quickly needed a second 3D printer that we made ourselves in Mada with recycled components that we found here. And after having made this printer, we realized that we could make a lot of things on the island. And that's how we and our technical team ended up making the first solar PC made in Mada, locally, from the design to the guts of the PC, right down to the printed circuit boards".
And it is precisely this "local innovation" that won its first big client, Accesmad, an NGO specializing in promoting science education on the island. After purchasing 24 computers of the first version, its deputy director, Olivier Ralaiharivonison, has just signed a new order for 24 Jirodesk II.
"The real added value of this partnership is that our needs have been taken into account in the V2 (second version, editor's note). For example, we needed a GPS for the geolocation of our equipment, which has been integrated. We thought there was too much hardware around V1, this is really a computer that integrates everything inside, which is very compact".
At the request of the NGO, a data feedback box was also designed and added to the V2 to allow Jirogasy technicians to perform remote maintenance on computers scattered around the island.