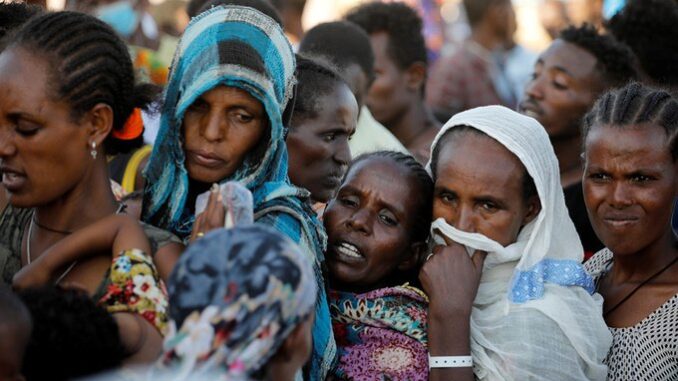 Federal authorities are beginning to acknowledge that crimes were committed by the military in Tigray. Thus, after months of denials, the veil is gradually being lifted on what took place behind closed doors in the rebel province, beginning on November 4. And the facts revealed are chilling.
It was a "dirty war" that was fought in Tigray. The revelations that follow one another in the press or through the voice of NGOs are beginning to reveal this, belying the words of Prime Minister Abiy Ahmed who, on 30 November, had assured that 'not a single civilian' had been killed in what he described as an operation 'to restore the rule of law'.
Last Thursday, the organization Human Rights Watch published a detailed investigation into the toll of artillery fire against the urban areas of Humera, Shire and the capital Mekelle, from the first days of the conflict: 83 deaths recorded, with their names and the circumstances of their death, and 300 wounded. Human Rights Watch reports on destroyed hospitals, bombed schools, and markets caught under shells, including from across the nearby Eritrean border.
On the same day, the Ethiopian Human Rights Commission and then the Minister of Women's Affairs, Filsan Abdullahi, admitted that the rape of women – often very young girls – had been used on a massive scale by soldiers fighting for Addis Ababa, whether federal, militia or from the ranks of the Eritrean army, and that "without a doubt". Survivors are beginning to emerge from the silence, as they did on Monday morning via the Associated Press agency or the BBC: they tell of the horror, cynicism, blackmail to murder, humiliation and mutilation. And the trauma left by these crimes.
Some Tigrayan civilians are also coming out of the shadows, such as this professor at the University of Adigrat and amateur hiker, who published on the internet his account of a large-scale massacre allegedly committed by the federals and Eritreans in the historic town of Aksum in late November. He talks about the more than 700 corpses buried, and then about the terror that the soldiers carried out in the following weeks.
Similarly, the presence of Eritrean soldiers in Tigray is no longer in doubt, despite the denials of Addis Ababa. An Ethiopian official acknowledged this publicly on Sunday: in an interview with VOA's Tigrinya service, Etenesh Nigussie, the federally appointed communications director of the Tigray Interim Administration, explained that "the biggest challenge" now was getting humanitarian aid to the population, given the looting of trucks by troops from Asmara.
In recent weeks, the director of the UN High Commissioner for Refugees Filippo Grandi, after other UN agencies, had already expressed his "grave concern" about the way in which the war in Tigray has been waged by the federal army and its allies, Amharas and Eritrean militiamen, especially in the four refugee camps in the province.