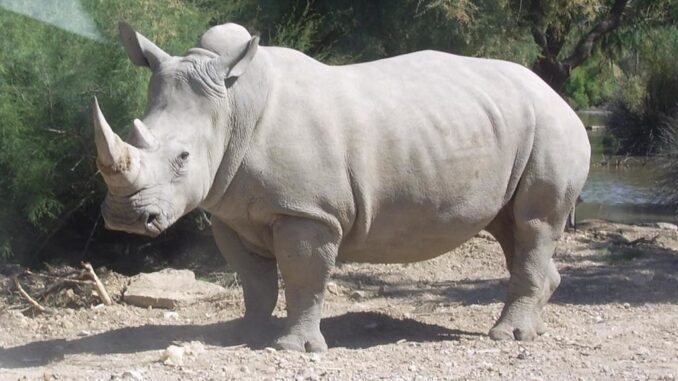 A new network of traffickers of protected wildlife species, white rhino in this case, was dismantled in the Democratic Republic of Congo. The traffickers were trading the horns of the white rhino.
Four people were arrested in Kinshasa, accused of complicity in this illegal trade. Other members of the network are actively sought by the justice system.
One white rhino horn from the DRC was seized in Singapore by Interpol.
At the start of the case, a parcel. Wooden elephant figurines, wrapped in a cloth decorated with a religious figure. One kg of art cloth, whose recipient is in Vietnam, indicates the air waybill issued from Kinshasa. In support, official documents from the Ministry of Culture and Arts authorizing the export of handicrafts and ethnographic works of art. These documents are obviously signed by Congolese officials.
Everything seems normal. But, at the Singapore stage, something intrigues the airport services who decide to carry out a more thorough inspection of the package. Surprisingly, the agents discovered a white rhino horn weighing more than 1.5 kilos. Yet the rhino is a protected wildlife species. This species is endangered, its horn is highly sought after in Asia for its alleged aphrodisiac effects.
Alerted by Interpol, the Congolese authorities immediately arrested the offending officials. They are now in the hands of the justice system. The sender, already identified, is a presumed artist. He fled when his agent was arrested Thursday, February 18.