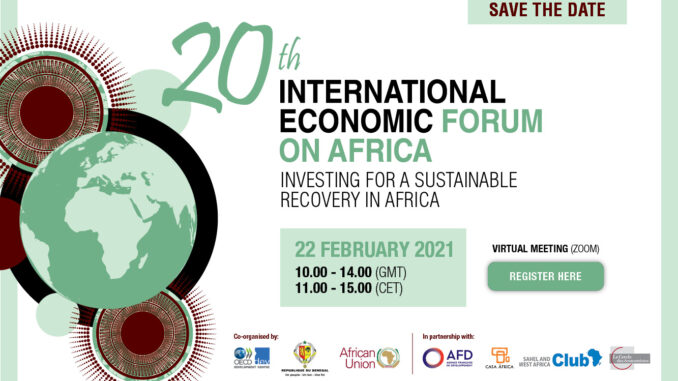 The 20th International Economic Forum on Africa was held this Monday, February 22, in virtual mode. Organized by the OECD, in partnership with the African Union and Senegal, the theme of this forum was "Investing for a sustainable recovery in Africa".
The President of the African Union Commission, the Prime Minister of Togo, the President of Madagascar and the President of Senegal spoke at the opening of this singular edition which is being held at a time when the whole world is looking for ways to limit the consequences of the covid-19 pandemic.
It is with reduced visibility that the world is looking at the end of the circulation of the coronavirus, in order to put all activities and all economic circuits back to full speed. The challenge facing Africa is immense: last year, 41 countries on the continent experienced an economic recession, compared to only 11 (African countries) during the global financial crisis of 2008. The Senegalese president has once again taken on the role of their spokesman.
While welcoming the moratorium of the G20 (the twenty largest economies in the world) on the debt of the least developed countries, which will end on June 30, 2021, Macky Sall called for its extension throughout 2021, but he pleaded above all for substantial debt relief, even debt cancellation for some countries, so that they continue "to meet the expenses generated by the health response" and to "prepare for post-covid recovery. He reiterated, in passing, the wish to see developed countries mobilize part of the Special Drawing Rights (SDRs) for the benefit of countries in need.
Another cry from the heart of the Senegalese Head of State was the need for "access for all countries to vaccines against covid, at reasonable prices».