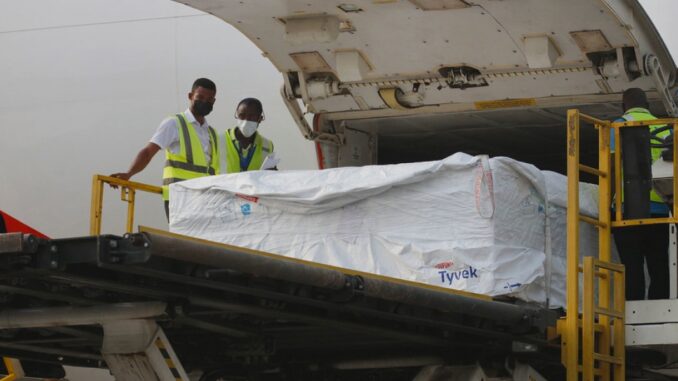 The plane landed this Wednesday morning in Accra for the world's first delivery of Covax vaccines. These free doses are expected to smooth out the inequalities between rich and low-income countries in vaccine supply. Why is Ghana the first country to benefit from this program?
According to the WHO, the choice of Ghana was made "based on a variety of factors, including a sound deployment plan and well-established health restrictions. Ghana had to prove that its health workers and cold chain equipment were ready to support rapid distribution.
That deployment plan begins today, with the arrival in Accra of 600,000 doses of AstraZeneca/Oxford vaccine, manufactured by the Serum Institute of India and shipped by UNICEF from Mumbai. This number is expected to reach 2.4 million by the end of June. But there is still a long way to go, says Dr Richard Mihigo, coordinator of the Regional Programme for Immunization and Vaccine Development at the WHO Regional Office for Africa. "Ghana today is just the beginning of a long process of vaccine delivery. Africa has already fallen far behind. 215 million doses of vaccine have been administered worldwide. And in Africa, 3 million doses have been administered. »
In the coming days, these doses will be distributed in health centers throughout the country, with priority given to the cities of Accra, Kumasi and Obuasi, where the number of contaminations is particularly high.
The first phase of vaccination will take place on March 2. The first to receive his vaccine will be Ghanaian President Nana Akufo-Addo. Next to be vaccinated will be health professionals on the front line in the fight against Covid-19, people in fragile health and those over 60 years of age. But also a selected panel of high-ranking political and religious leaders.
In a second phase, the vaccines will be administered to the rest of the population. A few days ago, the head of Ghana's immunization plan, Kwame Amponsa-Akyianu, promised that Ghana would vaccinate 20 million people, two-thirds of its total population.
But the challenge is not just getting the vaccine. The population must also be convinced to get vaccinated, while misinformation and conspiracy theories are widely circulated. "I would like to reassure people not only in Ghana, but throughout Africa. The vaccines used are effective, are safe, and where it has been administered, in more than 80 countries now, we have not experienced any significant side effects," says Dr. Richard Mihigo.
In an attempt to reassure people, the WHO promised this week to compensate all vaccinated people who may experience serious side effects through the Covax program.