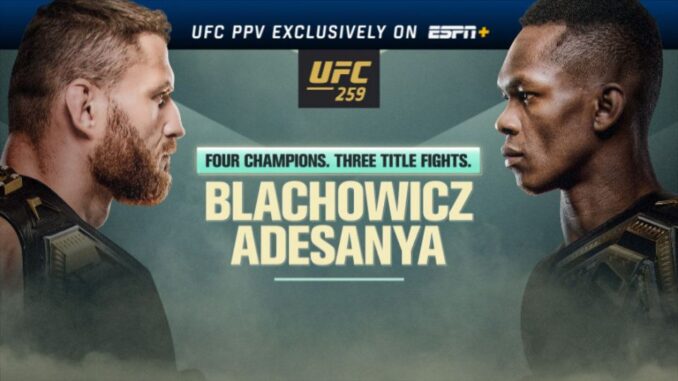 Israel Adesanya can become the fifth fighter in the history of the Ultimate Fighting Championship (UFC) to be simultaneously champion in two different weight categories. The current middleweight boss will face the light heavyweight boss, Jan Blachowicz, on the night of March 6-7, 2021 in Las Vegas. If successful, the Nigerian will consolidate his new status as a mixed martial arts (MMA) superstar.
Will Israel Adesanya become the undisputed superstar of mixed martial arts (MMA)? Anyone who was born in Nigeria and grew up in New Zealand can get close to that status on the night of March 6-7, 2021 in Las Vegas, says Ariel Helwani, a leading journalist on MMA. "Adesanya is already one of the five biggest stars in the sport, he told rfi.fr. A victory next Saturday will confirm that he is one of the three biggest».
The man who has already dominated the middleweight category of the Ultimate Fighting Championship (UFC) since October 2019 will attempt to win the light-heavyweight title against his rival Jan Blachowicz at the UFC 259.
In the event of success against the Pole, the Nigerian would become only the fifth fighter in the history of this league created in 1993 to simultaneously hold two belts in the UFC ("champ champ"), after Ireland's Conor McGregor, Americans Daniel Cormier and Henry Cejudo, and Brazilian Amanda Nunes.
The timing to become the new figure of the discipline seems to be right for the man nicknamed "The Last Stylebender". McGregor has indeed multiplied defeats and mistakes in recent years. Cormier and Cejudo have retired from the UFC. In the midfield, the Nigerian Kamaru Usman shines sportily but does not unleash passions. As for the undefeated Khabib Nurmagomedov (29 victories and 0 defeats in MMA), he announced the end of his career with a bang.
At 31 years old and with a record of 20 successes against 0 defeats, Israel Adesanya seems to be the only one able to match Nurmagomedov's series of invincibility. The Lagos native has not yet beaten any big name in the UFC, unlike the Russian. In recent months, the Nigerian has regularly provoked Jon Jones through social networks. The American, often considered the greatest of all time ("Greatest Of All Time" – "GOAT") of the MMA, has decided to leave his title in the light heavyweight – recovered by Blachowicz – to tackle the heavyweight title after the fight between the American Stipe Miocic and the Cameroonian Francis Ngannou.