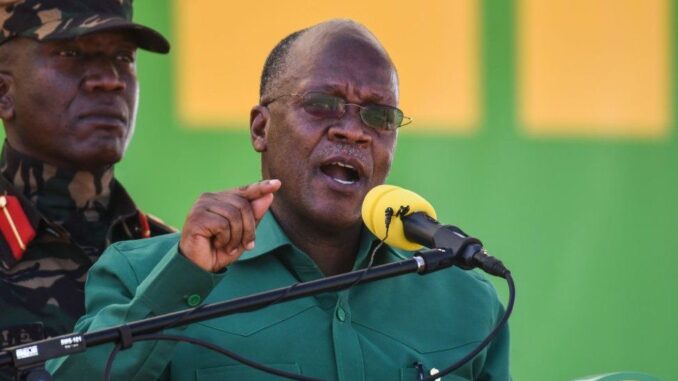 The Tanzanian president died on Wednesday, March 17, at the age of 61, Vice-President Samia Suluhu Hassan announced on national television. John Magufuli, a skeptical president, had not been seen in public since late February.
Tanzanian President John Magufuli has died of heart problems, the vice president announced Wednesday on television, after more than two weeks of unexplained absence of the head of state. "It is with great regret that I inform you that today, March 17, 2021, at 6 p.m., we have lost our courageous leader, the President of Tanzania, John Pombe Magufuli," said Samia Suluhu Hassan. She announced that a national funeral would be held shortly. Fourteen days of national mourning have been declared.
It is with great sadness that I announce that today, March 17, 2021, at 6:00 p.m., we lost our leader John Pombe Joseph Magufuli to heart complications at Mzena Hospital in Dar es Salaam, where he was being treated. He was hospitalized from March 6 at the Jakaya Kikwete Heart Centre, when he developed chronic heart complications that have troubled him for the past ten years.
For several weeks, rumors have been circulating on social networks, saying he was ill or suffering from Covid-19, and the opposition has been asking the authorities for explanations. A week ago, the leader of the opposition in exile in Belgium, Tindu Lissu, like others, had begun to ask questions by mentioning a probable severe form of Covid-19, aggravated by health problems.
But these rumours were denied by several members of the government. The Minister of Constitutional Affairs even threatened to prosecute anyone who spread rumours about the health of the head of state, and arrests had even been made in recent days.
The official version of the story is that the death of a man who for months totally minimized the Covid-19 pandemic was due to heart problems. Until the last few weeks, he ignored all sanitary measures and claimed that the virus had been defeated in his country through prayers, steam baths and medicinal herbs.
John Magufuli was the fifth president of Tanzania since its independence in 1961. John Magufuli was elected president for the first time in October 2015, with 58% of the vote. He then succeeded Jakaya Kikwete.
He was nicknamed "tinga tinga", "bulldozer" in Swahili, in reference to the construction programs he implemented. As head of state, he promised to fight corruption, develop the country and its economy, and launch major construction projects. He distinguishes himself by a resolute action in favor of the poorest. He wanted to demonstrate this empathy as soon as he was sworn in, taking a series of drastic measures and even going so far as to divide his own salary by four, becoming one of the lowest paid African heads of state. The money that used to evaporate in tax evasion will be invested in education and the fight against poverty.
John Magufuli was re-elected last October in a contested election with over 84% of the vote.