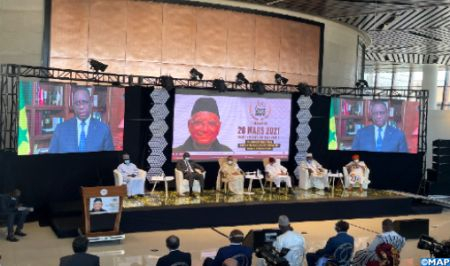 ---
Senegal celebrated, Saturday March 20, the centenary of the former director general of UNESCO, Amadou Mahtar Mbow, an event placed under the high patronage of King Mohammed VI and Senegalese President Macky Sall.
The celebration, also held under the patronage of the heads of State of Guinea, Alpha Conde, Niger, Mahamadou Issoufou, and Burkina Faso, Roch Marc Christian Kabore, took place at the Museum of Black Civilizations in Dakar.
The commemoration program features an exhibition on the life and work of Mahtar Mbow, and a symposium focused on several themes relating to "the dynamic vision of education" for Amadou Mahtar Mbow; "the restitution of cultural property"; "questions on African cultures"; and "the message for youth and youth in the life and work of Amadou Mahtar Mbow".
Speaking on this occasion, Prof. Mahtar Mbow expressed his gratitude and thanks to all those who have contributed to the organization and success of this event led, he said, by King Mohammed VI who has kindly granted his patronage to this centenary.
For his part, Moroccan ambassador to Senegal, Taleb Berrada highlighted the exceptional ties that bind Prof. Mahtar Mbow to the Kingdom and which are reflected, he noted, by the esteem and the very high solicitude expressed towards him by King Mohammed VI and by his father the late King Hassan II.
The King's support to the centenary celebration and to the project to create the Amadou Mahtar Mbow Foundation are all significant actions reflecting the stature of this man and the high esteem he enjoys in Morocco, the diplomat said.
Amadou-Mahtar M'Bow, born in Dakar on March 20, 1921 served in France and North Africa during World War II. After the end of the war he studied geography at the Sorbonne University in Paris.
M'bow began working for UNESCO in 1953 and was the director-general from 1974 to 1987, being the first black African to head a United Nations support organisation.