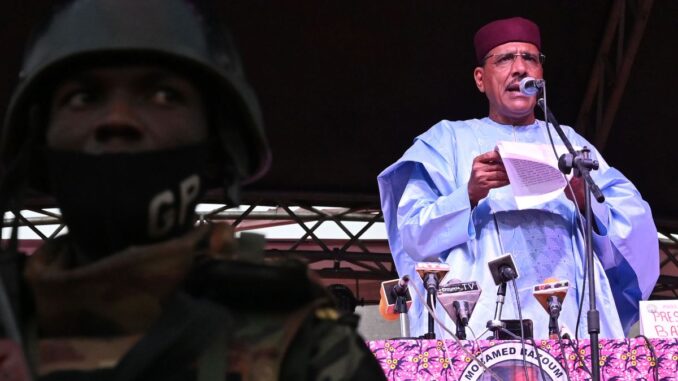 Niger's new Prime Minister is known as Ouhoumoudou Mahamadou, an insider of former President Issoufou Mahamadou. He has been a member of the PNDS political bureau for thirty years. He will direct the actions of the future government, which will be named in a few days.
Ouhoumoudou Mahamadou, 66, holds a master's degree in economics, a graduate degree in management and business administration, and a graduate degree in accounting.
Internationally, he has served as Deputy Executive Secretary in charge of financial administration for the Economic Community of West African States (ECOWAS). Politically, Ouhoumoudou Mahamadou is a member of the PNDS, the party in power since its creation in 1990. He was elected twice to the National Assembly. From 1991 to 1993, he was Minister of Mines, Energy and Industry, then Minister of Finance from 2011 to 2012. Several officials in the Ministry of Finance say that Ouhoumoudou Mahamadou is comfortable with numbers. And he has the confidence of donors, according to other sources.
He also served as President Issoufou's chief of staff for six years. His many years in government make him the most likely candidate in the presidential camp to take the position of prime minister.
As one of President Mahamadou Issoufou's loyal followers, he has a perfect knowledge of all the major issues of the Seventh Republic. His membership in the first circle of power makes him a man who cannot be ignored, even within the PNDS party.
Originally from the region of Tahoua, Mahamadou Issoufou's home region, he led the last electoral campaign in this area, where the PNDS won more than 932,000 votes, thus opening the presidency of the Republic to Mohamed Bazoum. It is also the electoral weight of this region that would have played in favor of his nomination. According to a member of the PNDS political bureau: "This position is rightfully the responsibility of the Tahoua region.
The Prime Minister is now in the process of forming his government, but he will not take any action until he is sworn in by members of the National Assembly in mid-week. Once the 160 members of the majority have approved this test, he will be able to form his first government. All but one of the government posts would go to the ruling party (PNDS).
On the opposition side, this appointment is a non-event as they are still contesting the election.