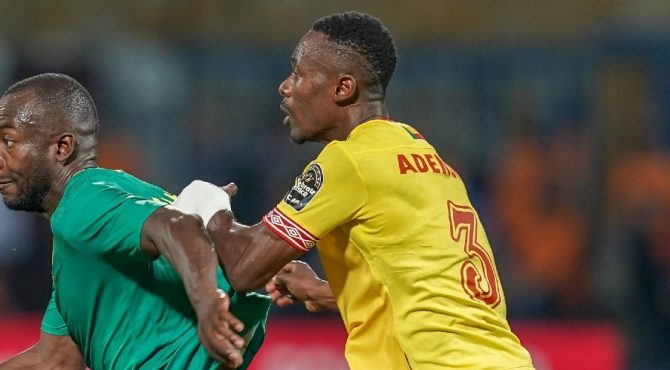 After the controversy surrounding the non-played match between Sierra Leone and Benin on Tuesday, March 30, the five Beninese internationals who tested positive for Covid-19 in Freetown have returned to France. And all of them have been tested negative by their respective clubs. Steve Mounié (Brest), Cédric Hountondji and Jodel Dossou (Clermont) could even play this weekend of April 3-4.
The light has yet to be shed on the Sierra Leone-Benin match, the last game of the CAN 2021 qualifiers not yet played. As a reminder, the two teams were to face each other in Freetown on Tuesday, March 30 for a decisive face-off in Group L, where Nigeria (14 points) is already assured of the first place and where there is only the second to be awarded (7 points for Benin, currently second, and 4 points for Sierra Leone, third). This is the last qualifying place for the next continental tournament.
The match could not be held after the imbroglio around the positive tests to Covid-19 of five Squirrels: Khaled Adenon, Saturnin Allagbé, Jodel Dossou, Cedric Hountondji and Steve Mounié. Five major players of the Beninese selection, tested positive … three hours before kickoff. The Beninese, ulcerated and convinced of a deception, refused to play. And after many tensions and negotiations, the match was postponed to June.
The end of the story is not yet known, but the return of these five players to France after this international break adds fuel to the suspicion about what happened in Freetown: none of these players has tested positive for Covid-19 by the four clubs involved.
The last result concerning Khaled Adénon fell on the evening of Saturday, April 3: the defender is negative. He was not in the group of Avranches, a National team, which won at Bastia the day before (1-0).
On the other hand, both of Clermont's players were on the field on Saturday against Niort, during the 31st day of Ligue 2 (0-0): defender Cedric Hountondji played the whole game, while Jodel Dossou came on in the 62nd minute. Clermont is in third place in the championship.
This Sunday, April 4, Steve Mounié was at the head of the attack of Brest, beaten in Lorient on the 31st day of Ligue 1 (1-0)
Five players tested negative, including at least three who could play this weekend in League 1 and League 2. All this only four days after the Freetown controversy. Accusations of deception are not likely to subside after that. On Instagram, Cedric Hountondji has also relayed a message highlighting this illogicality.