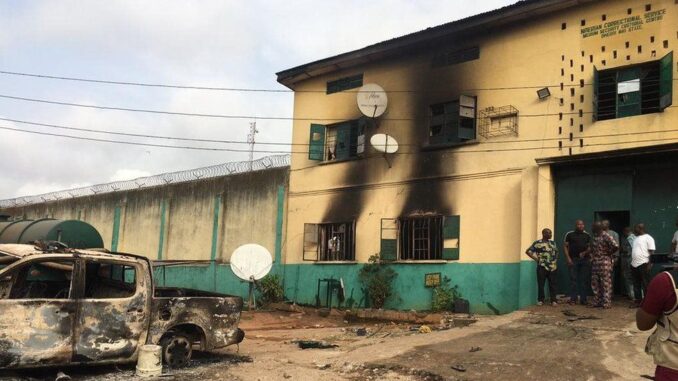 More than 1,800 prisoners escaped from a prison in southeastern Nigeria on Sunday night after an assault by gunmen. No one has claimed responsibility for the attack, but suspicions are turning to Ipob, the Biafran independence group based in the Imo region, where the attack took place.
The head of the Nigerian police indicated this evening that "according to the initial elements of the investigation", the assailants "came in large numbers, with sophisticated weapons", and were indeed "members of the Indigenous People of Biafra" (Ipob).
Earlier, President Muhammadu Buhari had denounced "an act of terrorism" and attributed the attack to "anarchists" and "criminals", without giving further details.
Prison authorities confirmed the escape of more than 1,800 inmates from the Owerri State Prison in Imo State and detailed the attack. At around 2:00 a.m., the gunmen arrived in large numbers in pickup trucks and used explosives to enter the prison, where they attacked the security personnel present. Violent exchanges of fire took place, according to the statement. The "gunmen" also attacked the Owerri police headquarters, where they were repelled before they could reach the armory.
Yesterday afternoon, the spokesman for the ipob movement denied being behind the attacks. But the pro-independence group recently published training videos of a new militia called the "Eastern Security Network. Its members are now in the sights of the authorities.