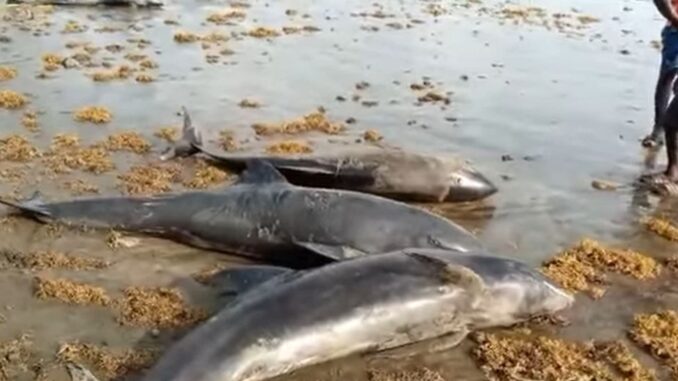 Tons of fish as well as dead dolphins have been reported in recent days on the Ghanaian coast. An investigation is underway to determine the causes of this accident, which is unprecedented in this English-speaking West African country. A team of experts from the Ministry of Fisheries and Aquaculture went to the scene.
Dead fish and dolphins, by the hundreds, spread out over miles of coastline. Richmond Kennedy Quarcoo has never seen so many. The co-founder of the local NGO Plastic Punch, which aims to fight plastic pollution, was surprised on Friday to discover a dozen dead fish in Nungua, in the region of Accra, the capital. And even more so when the same phenomenon was repeated elsewhere, in greater numbers.
"This is the first time that so many fish have been found stranded on beaches, and considering the 550 kilometers of Ghana's coastline. This is the first time that a similar phenomenon has occurred in several places at once, namely: Axim, which is in the far east, Osu and Nungua, which are close to the center and Keta, which is in the far west. This is the first time this has happened and everyone is shocked. "
Among the species found, there are pelagic fish, such as tunas, or demersal fish, such as balloon fish. These are rare species that Ghanaians are not used to eating.
An alert has been issued to consumers by the authorities, explains Kojo Opong Nkrumah, government spokesman: "It is because we are concerned that we have issued an alert to fishermen and fishmongers along the coast not to be tempted to consume or sell what has been washed up on the beaches, but to allow the investigation to go through. "
A decision that risks further undermining public confidence in fishing, says Richmond Kennedy Quarcoo. For the latter, the cause of these mysterious deaths of fish would be found in aggressive fishing by Chinese boats. The first conclusions of the investigation will be revealed on Wednesday.