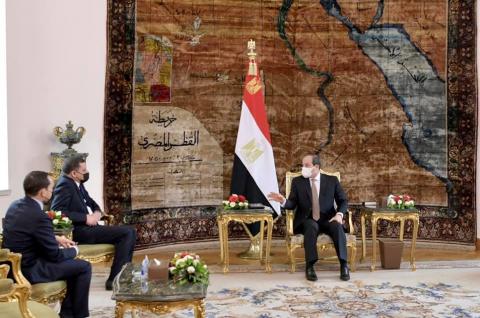 The diplomatic ballet continues in Tripoli. After the visit of several European and Algerian officials, Mustapha Madbouli, the Egyptian Prime Minister held talks on Tuesday, April 20 in Tripoli. This first trip since the installation of the new power aims to continue the normalization between the two countries. Cairo, a major supporter of Marshal Haftar, is multiplying its gestures towards the new executive. In the joint communiqué announced at the conclusion of the meetings, Egypt recognizes the government of national unity as the sole legal power in Libya.
It is a different signal given by Egypt to the new Libyan leadership: "a clear letter", which affirms "Egypt's support for the unification and stability of Libya", said the Egyptian Prime Minister on his return. He was accompanied by eleven ministers.
Cairo, which is adopting a new, more balanced position towards Tripoli, had hosted the first official trip abroad of Abdelhamid Dbeibah, head of the interim Libyan government, in mid-February.
In Tripoli, the two Prime Ministers sought to reinvigorate their bilateral relationship by redefining the basics. Several memorandums of understanding were signed in various fields, including electricity and telecommunications. An agreement also provides for the resumption of air links by the national companies of both countries. These flights resumed on Wednesday, April 21.
On the security front, the two sides will strengthen patrols at their common border and exchange data to better fight terrorism. An agreement in the field of health also allows Libyans to be treated in Egyptian public hospitals.
According to the authorities, the Egyptian embassy in Tripoli will reopen after the end of Ramadan holiday.