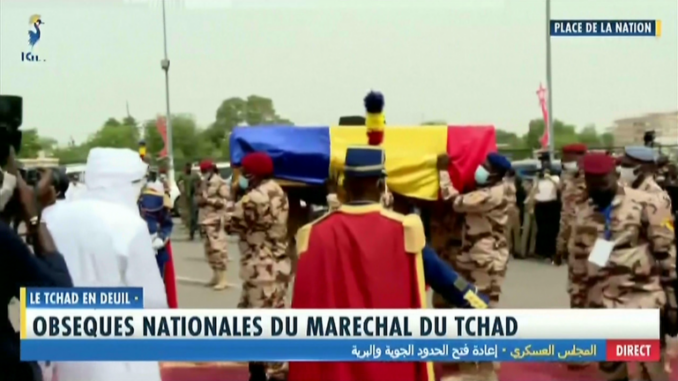 The Chadian president died on Tuesday 20 April in the combat zone in the northwest of the country. A dozen foreign heads of state are on hand this Friday to pay their last national tribute to Chad's marshal.
Eleven heads of state, including the Frenchman Emmanuel Macron, the Congolese Félix Tshisekedi, the Nigerian Mohamed Bazoum and the representative of European diplomacy Josep Borrell are in Ndjamena, the Chadian capital, for the funeral of President Idriss Déby. One notable absence was that of the Congolese Denis Sassou-Nguesso, who cited family reasons.
Upon arrival of the mortal remains at 9:00 a.m. on the Place de la Nation, Idriss Déby will receive tributes from his biological and political family, his comrades-in-arms, and foreign heads of state who will be present on the square in front of the presidential palace, where tents have been set up.
Then, the vice-president of the transitional military council, General Djimadoum Tiraina, one of Idriss Déby's loyalists who was his last Minister of Defense, will deliver the funeral oration. The attributes of the Marshal will be placed on the coffin while 21 cannons will be fired to salute the memory of the deceased.
The body will be handed over to the family for a prayer at the great mosque of Ndjamena before leaving for Amdjarass, not far from his native village where the body of Idriss Déby Itno will now rest.
The rebels of the Front pour l'alternance et la concorde au Tchad (Fact), who launched an offensive in the north of the country from Libya on April 11, say they will continue to respect the truce they have been observing for three days. "There is no reason why we should not apply it, unless we are really attacked," said Mahamat Mahadi Ali. The rebel leader says that they are "overflown 24 hours a day by French drones" and that they have been bombed every day for the past three days by the Chadian air force, without firing back.
"We want to give the transition a chance to be peaceful, so that there will be no more disorder, we have no personal problem with Idriss Déby. Our problem with Idriss Déby is essentially political and when a man dies, every human being must bow before his remains," said the head of Fact.