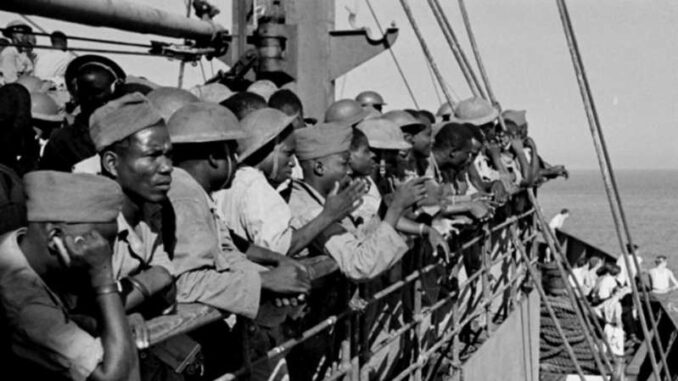 The dean of Malian veterans and officially 100 years old, Master Corporal Kaba Doumbia passed away this Monday, April 26. Recipient of the Silver Medal of French Remembrance in 2020, he was a Knight of the Legion of Honor since 2014, and the celebration of the 70th anniversary of the Provence landings. His funeral will take place this Wednesday, April 28 in Bamako.
In a modest concession in the Ouolofobougou neighborhood, Ba Oumou holds the portrait of her father Kaba Doumbia, a World War II veteran. As if in a procession, she passes it on to her sister before sitting down on a large sofa. "He told us about all the hardships he went through in France, where he served seven years. He told us about all the cities he passed through, but also about all the kinds of deaths he saw. They (the soldiers) did not sleep, they had no respite.
After the Liberation, Kaba Doumbia was mobilized for another year in France for surveillance and security operations. One year after his return to Mali, in 1947, he got married and started a family of seven girls and three boys, including Massa. "Whoever talks about the military, talks about discipline. It is not easy to be with a veteran with the rigor and discipline that characterize him in his way of governing the family. "
In the courtyard of the house built by their father, who became a merchant on his return to civilian life, the veteran's children, grandchildren and great-grandchildren pay their last respects with prayers and blessings.