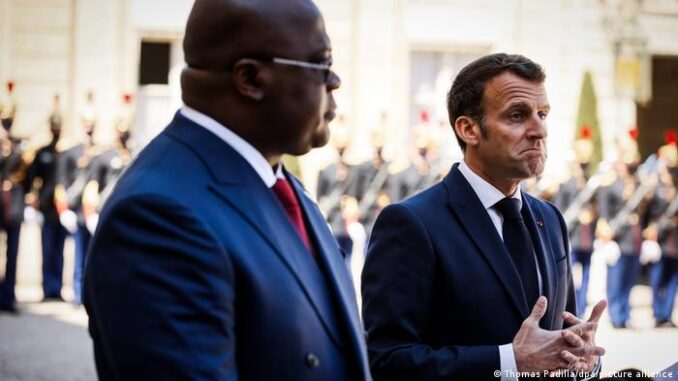 The repression of the demonstrations and the violence were condemned yesterday in Paris by the French and Congolese presidents. Felix Tshisekedi, who holds the rotating presidency of the African Union (AU), was received at the Elysée Palace for a working lunch with the Chadian issue on the menu. This was an opportunity for Emmanuel Macron to state loud and clear his support for a democratic and inclusive transition, while France was the target of hostile slogans yesterday during the demonstrations in Ndjamena.
In a joint statement, the French and Congolese presidents strongly condemned the crackdown on the demonstrations and called on the Transitional Military Council to respect its commitments, particularly that of a peaceful and inclusive transition.
Four days after his trip to N'Djamena, Emmanuel Macron also wanted to set the record straight. "I have given my support to the stability and integrity of Chad, very clearly in N'Djamena. I am for a peaceful, democratic, inclusive transition; I am not for a succession plan. And France will never stand with those who form this plan. "
Felix Tshisekedi, for his part, reiterated his remarks made Friday in Ndjamena. "We obviously support the current stability, but on condition that it moves very quickly towards the consolidation of democracy, of democratic institutions."
The African Union is likely to send a mediation mission to the country this week. A mission which, according to our information, should be led by the Nigerian Bankole Adéoye, the new AU Peace and Security Commissioner.