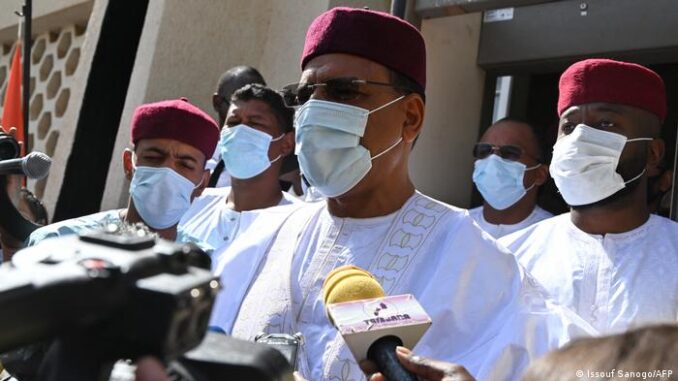 Captain Sani Gourouza was arrested in Benin and handed over to Nigerien authorities. He is the alleged perpetrator of the coup attempt that shook Niamey on the night of March 30-31, the day before the inauguration of the new president, Mohamed Bazoum. The information was officially confirmed by the Nigerien police and gendarmerie, who had issued an arrest warrant for him.
This is the end of the run for Captain Sani Gourouza, the alleged leader of the coup plotters at Niamey Air Base 101, who was cited in the foiled coup attempt against the regime of Mahamadou Issoufou on the night of March 30-31, two days before the inauguration of the new president, Mohamed Bazoum. This Monday, he was arrested by the Beninese services and handed over to Niamey.
A week ago, on April 20 to be exact, a lieutenant and a warrant officer were also arrested in Benin and transferred to Niamey. This cooperation was welcomed by the hierarchy of the Nigerien research brigade after an arrest warrant was issued for the captain and his men involved in the coup.
After the failure of this attempt and in his last message to the nation, President Mahamadou Issoufou condemned this action. So did the new president, Mohamed Bazoum, on the day of his inauguration. Both declared that the perpetrators and their accomplices would be sought out and brought to justice.
The opposition said at the time that the coup attempt was a stunt by the regime in Niamey to make its point. It will be recalled that the advance of Captain Gourouza's men was halted at the Ministry of Foreign Affairs, which shares a wall with the presidential palace. The barrage of fire from elements of the presidential guard, for a quarter of an hour, it is said, had driven away the attackers, some of whom are still on the loose.