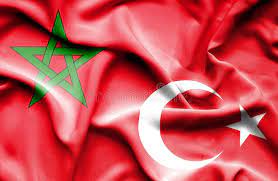 Turkish Foreign Minister, Mevlüt Çavuşoğlu, has hailed the leadership of King Mohammed VI of Morocco and commended the Kingdom for its role as a pole of stability and development in the region.
The Turkish official made his remarks during talks he held on Tuesday by videoconference with his Moroccan peer Nasser Bourita.
During the talks, the two officials expressed satisfaction at the excellent relations of friendship and cooperation binding the two countries and stressed the need to reactivate the partnership mechanisms, through the organization of new sessions of the political dialogue and of the Joint Commission.
They also agreed on the need to consolidate economic partnership through the establishment of an investment promotion roadmap focusing on new value chains.
In this vein, they announced the organization, on the sidelines of the coming meeting of the Joint Commission, of an economic forum that will focus on trade and investment.
The two ministers also discussed the health situation and the efforts made by their respective countries to fight the pandemic. They decided, in this connection, to mutually recognize the COVID-19 vaccination certificates issued by the two countries' health authorities.
The two officials also surveyed a number of regional and international issues, and pledged to continue coordination and consultation on issues of common interest, in particular Libya, the Middle East and the Mediterranean.