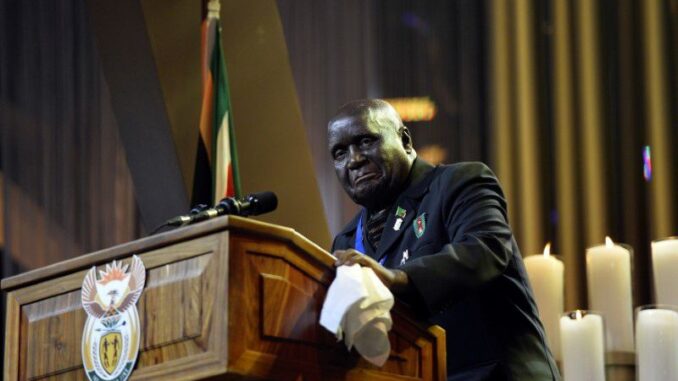 The Zambian government announced on Thursday that the country's first president, Kenneth Kaunda, father of the independence of the former British protectorate, which he led for 27 years, had died at the age of 97.
He was nicknamed the "African Gandhi" for his non-violent activism. Kenneth Kaunda led the former Northern Rhodesia to independence without bloodshed in 1964. He "died peacefully" at 2:30 p.m. (12:30 p.m. GMT) in hospital, government secretary Simon Miti said on national television on Thursday. A national mourning of 21 days has been declared.
The former head of state, also nicknamed "KK", had been hospitalized Monday in a military hospital in the capital Lusaka, for pneumonia. The current president, Edgar Lungu, expressed his "great sadness" in a message posted on Facebook. "You left when we least expected it," he posted, lamenting the passing of a "true African icon.
The youngest of eight children, Kenneth Kaunda was born in 1924. Son of a pastor from Malawi, he first turned to teaching. Then he became involved in politics within the Northern Rhodesia branch of the ANC. This will earn him a few months in prison. Upon his release, he founded the United Party for National Independence, Unip, and became in 1964, at the age of 40, the youngest Prime Minister of the Commonwealth.
When the Republic of Zambia was proclaimed on October 24 of the same year, he became its first president. But very quickly, and from the first years of independence, the popular leader became an autocrat. He banned all opposition parties. Only Unip was allowed to exist in order to prevent the country from breaking up.
Re-elected every five years, he remained in power for 27 years and his popularity in his country waned. Very involved in denouncing apartheid in South Africa, he received Nelson Mandela after his release, but was unable to stop the deterioration of the daily life of Zambians. Hunger riots and growing protests forced him to accept a multi-party system. In 1991, he was defeated in free elections and forced to give way to Frederick Chiluba.
Tensions with his successor were such that Kenneth Kaunda retired from politics in the 2000s, concentrating on mediation missions on the African continent and the fight against AIDS, a disease to which one of his sons had succumbed. Before others, Kenneth Kaunda saw the disease as a threat to the continent: "We must fight HIV with the same zeal as we fought colonialism," he said.