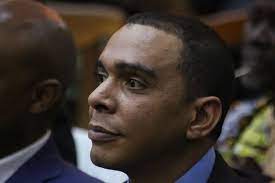 The trial of the former spokesman for the Seleka rebel coalition, which seized power in 2013 in Bangui, began Thursday, June 24 in the Central African capital.
Following a denunciation, investigators conducted a search of his home last month, looking for a cache of weapons. They finally found only a bulletproof vest, a drone, binoculars and a pair of rangers. The defendant is prosecuted for illegal possession of military effects, conspiracy and espionage. He appeared yesterday in flagrante delicto before the High Court of Bangui.
At the heart of the debate: the pair of shoes, size 43 rangers "that belonged to my father," explains Eric Neris Massi. He says he wears size 45.
"It's a detail," says the prosecutor. On the stand, wearing an orange outfit, on the back the number 0133N, the former Seleka spokesman faces a suspicious president: "Would other military effects be hidden somewhere? "
We come to the drone: "What range? What autonomy? " "It is a model for children, a simple toy! ", according to the defense. "It can be used as a weapon! ", replies the prosecutor. Same questions for the pair of binoculars: can they be used for military purposes?
Massi's lawyers evoke "a settlement of accounts". Already arrested and placed under judicial supervision five years ago, before being cleared, the defendant gives voice: "If I had to take up arms today, it would be to defend the Republic! "Eric Neris Massi, who now works in communications, was arrested on May 28 and spent two weeks in pre-trial detention before being placed under a detention order.
The prosecutor's office is asking for one year's imprisonment and a fine of 300,000 CFA. The defense is seeking an acquittal. The trial is scheduled for Monday, June 28.
Eric Neris Massi is the son of Charles Massi, a Central African soldier and politician who opposed former President François Bozizé and disappeared in unexplained circumstances ten years ago.