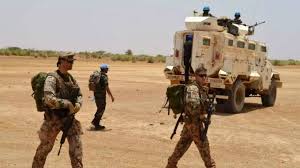 After announcing the resumption of its military cooperation with the Malian army, France will give details on the readjustment of its military presence in the Sahel, during the G5 Sahel summit.
During this G5 Sahel summit, scheduled for Friday, July 9, 2021 by videoconference, French President Emmanuel Macron is expected to provide further details on the announced readjustment of Paris' military presence in the Sahel.
Emmanuel Macron recently announced a gradual military disengagement of France in the Sahel. The French anti-jihadist force Barkhane, with about 5,100 men, will disappear in favor of a tighter structure, focused on counter-terrorism and combat support for local armies.
The subject was also at the center of the audience that Emmanuel Macron granted on Monday, June 5, 2021, at the Elysee Palace to Mahamat Idriss Déby, the president of the Transitional Military Council in Chad, which is currently leading the G5 Sahel.