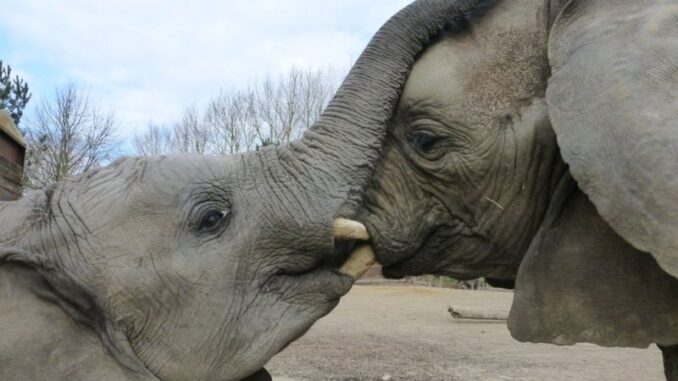 A herd of elephants is to leave a wildlife park in southern England to be flown to Kenya where they will be reintroduced into the wild, an operation presented on July 6, 2021 as "a world first" by the Aspinall Foundation, which is organizing it.
This conservation association, of which Carrie Johnson, the wife of Prime Minister Boris Johnson, is communications director, plans to take thirteen elephants from Howletts Wild Animal Park in Kent, 7,000 kilometers away, to southern Kenya, where two sites are being studied, in 2022. The Aspinall Foundation hopes to airlift the herd, which weighs a total of 25 tons and whose youngest member, Nguvu, was born in March 2020. "After years of weighing the benefits and risks, we at the Aspinall Foundation have decided on this unprecedented project and true world first," wrote Carrie Symonds and the foundation's president, Damian Aspinall, in the columns of The Sun newspaper.
"This is the first time that a breeding herd of elephants has been reintroduced into the wild," they say, an operation that should allow the pachyderms to enjoy a longer life expectancy and better well-being, as life in captivity causes stress and depression in these animals. The association says it will work with anti-poaching teams to help ensure the long-term survival of the herd in Kenya.
"In time, their offspring will number in the hundreds – and then thousands – and become part of an unparalleled ecosystem that helps boost Kenya's tourism economy," the duo points out, hoping this is a "revolutionary step for this country and for the nature conservation movement." The Aspinall Foundation has already reintroduced captive-born animals to their natural habitats such as gorillas, black rhinos, ashy gibbons and European bison.