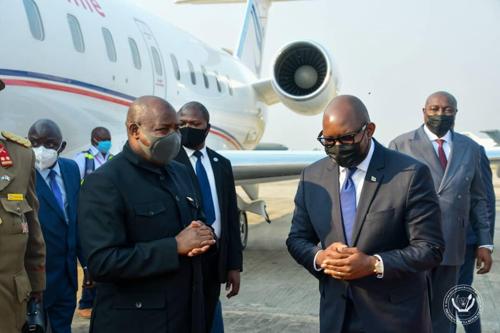 The Democratic Republic of Congo (DRC) and Burundi signed Tuesday in Kinshasa four memorandums of understanding in several sectors, on the sidelines of the state visit of Burundian President Evariste Ndayishimiye to Kinshasa.
The first memorandum of understanding concerns the development, maintenance and strengthening of peace, defense and security, while the second memorandum is devoted to the facilitation of trade agreements.
The third document concerns the joint project to develop a standard gauge railroad (SGR) on the DRC's border with Burundi. The last MoU concerns political and diplomatic consultations.
At the Nation Palace, the two heads of state had a one-on-one meeting for nearly two hours. This meeting was extended to the respective presidential delegations. In the final communiqué that sanctioned this meeting, the two presidents expressed their determination to strengthen the historical ties between their countries.
For Evariste Ndayishimiye, Burundi is committed to supporting the Congolese bid for membership in the East African Community organization. DRC President Felix Tshisekedi reciprocated this commitment by pledging the DRC's support for Burundi's bid to join the Southern African Development Community (SADC).
"The cooperation with Burundi is similar to the one we have with Rwanda and Uganda. It is a question of putting together our forces, energies and intelligence to bring peace to the region," Mr. Tshisekedi stressed.