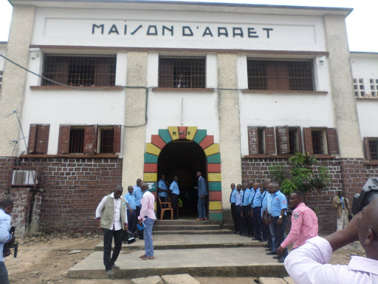 Six activists who have been detained for 125 days, accused by the authorities of undermining the internal security of the State, were granted provisional release without trial yesterday, Wednesday, July 14, following a court order. But one of them has not returned home.
Dr. Alex Dzabana, 73, the oldest detained human rights defender, was taken to a hospital for emergency treatment. While Christ Dongui of the Ras-le-bol Movement refuses to give up his fight. "Tomorrow, if there is a movement of pensioners demanding their pensions, I will be with them," promised Mr Dongui.
Roch Euloge Nzobo, the head of the Circle for Human Rights and Development, welcomed the plea that led to the release. "We can only rejoice that our friends are out," he said.
the release was welcomed by François Barateau, French ambassador to Congo. "This is good news because the deprivation of freedom arouses many emotions," he said.
In a statement Georges Nguila of the Congolese Observatory for Human Rights called for the release of all prisoners of conscience. "We take this opportunity to demand the release of all prisoners of conscience, including opponents Jean-Marie Michel Mokoko and André Okombi Salissa, who have been unjustly detained for five years," he said.
Finally, the NGOs are calling for the pure and simple abandonment of the proceedings against all these activists. For the time being, no information has been given on the holding of the trials.