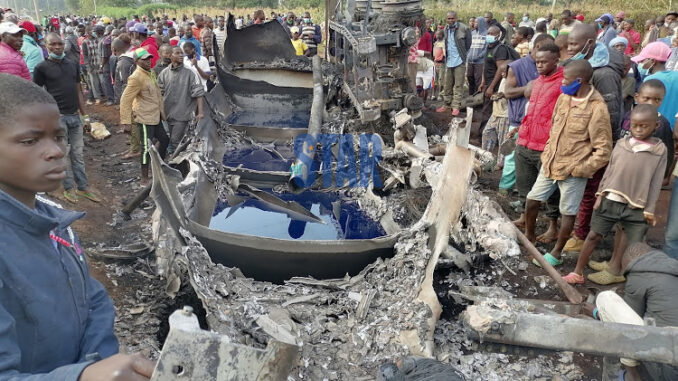 Thirteen people were killed and 24 injured when they were caught in a "huge fireball" when a crashed tanker they were siphoning off exploded in western Kenya, police said Sunday.
"We counted 12 dead bodies at the scene. Another person died in hospital from his injuries," said Charles Chacha, a police official in Siaya County, where the explosion took place late Saturday.
The victims had rushed with jerry cans to siphon gasoline from the tanker, which overturned after colliding with another vehicle, near Malanga, 315 kilometers northwest of Nairobi, on a busy road linking Kisumu and the Ugandan border
"It exploded while they were retrieving the leaking gasoline," Charles Chacha said.
"Twenty-four people were hospitalized," he added, suggesting that the toll could rise as several people were reported missing.
The first to arrive on the scene were able to fill their jerry cans and leave with them. But when a second wave of residents also wanted to take advantage of the windfall, the truck exploded.
"We were awakened by a loud, dull explosion. I went to look and saw a huge fireball that had overwhelmed the crowd. People were screaming," said Jack Odhiambo, a local resident.
Wycliffe Otieno had just started filling his canister when the fuel leaking from the truck burst into flames.
"I was lucky enough to be able to run for cover… But I was told that many of those with me did not survive," he said from his hospital bed.
In 2009, near Molo (150 kilometers northwest of Nairobi), 122 people were killed in a gasoline truck explosion as they gathered around a wrecked vehicle to collect fuel.