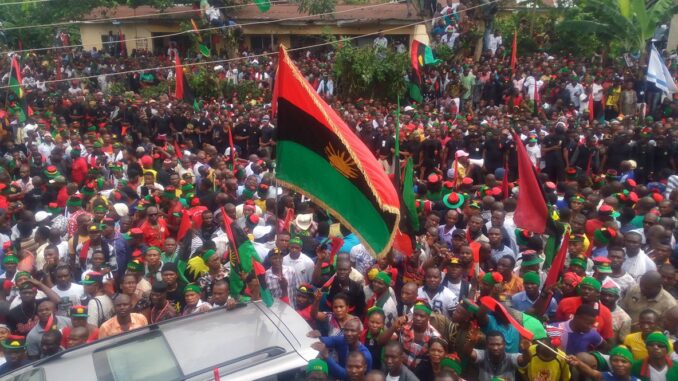 Amnesty International has accused Nigerian security forces of killing at least 115 people between March and June this year, in a crackdown on a secessionist movement in the Southeast.
Violence broke out in the southeastern states, killing at least 127 police and security personnel, according to the police, while local media reported that about 20 police stations and election offices were attacked.
The Indigenous Peoples of Biafra Independence Movement (IPOB), which advocates the secession of Nigeria's predominantly Igbo-populated southeast, and its paramilitary wing, the Eastern Security Network (ESN), were accused of masterminding the violence, which IPOB denied.
According to Amnesty International, security forces, including the army, police, and the Department of State Services (DSS) intelligence agency, suppressed the attacks, killing dozens of gunmen, as well as civilians.
"The evidence gathered by Amnesty International paints a damning picture of the ruthless use of force by Nigerian security forces in Imo, Anambra and Abia states," said Osai Ojigho, the NGO's Nigeria director. The human rights organization "counted at least 115 people killed by the security forces between March and June 2021.
When contacted, the Nigerian police did not immediately react to these accusations. Nigeria has recently intensified a crackdown on separatist agitators, including the arrest and trial of their leaders.
Last month, IPOB leader and founder Nnamdi Kanu was arrested in Kenya, according to his lawyers, and brought back to Nigeria to face treason charges. Kanu's IPOB is attempting to revive the now defunct Republic of Biafra, a declaration of independence which led to a 30-month civil war between 1967 and 1970.