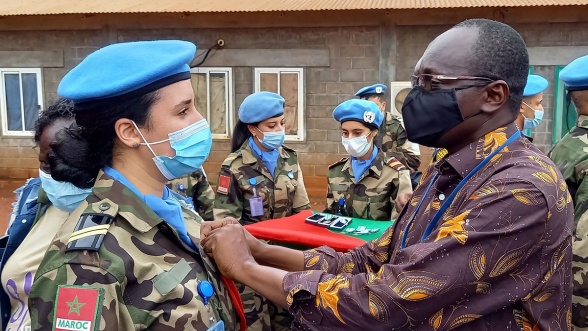 Some 752 peacekeepers from the Moroccan battalion (MORBATT) of the United Nations Multidimensional Integrated Stabilization Mission in the Central African Republic (MINUSCA) and 3 military observers received medals for their contribution to the return of peace in this country, announced Saturday the United Nations Information Center in Rabat (UNIC).
The medals were awarded to the Blue Helmets of MORBATT, based in Bangassou (south-eastern Central African Republic, in the Mbomou prefecture), during a ceremony held on Friday, in the presence of the MINUSCA Deputy Force Commander, Major General Paulo Emanuel Maia Pereira, said UNIC.
The Deputy Force Chief underlined that the MORBATT peacekeepers, deployed since April 23, 2020, in the Central African Republic, have shown courage and professionalism in the execution of their missions.
They carried out with efficiency all the operations assigned to them in the eastern sector.
"You have worked tirelessly to ensure the fulfillment of the mandate of MINUSCA and that of the Kingdom of Morocco, as a member of the United Nations; you have contributed to helping the Central African people to maintain a stable, secure and peaceful environment", said Major General Paulo Emanuel Maia Pereira.
He also congratulated them for the several actions of securing the civilian populations as well as for the rehabilitation of roads and public buildings in the prefecture of Mboumou and Haut-Mboumou, noting that these achievements have delighted local populations.
It is therefore in recognition of these efforts and in consideration of the fact that the battalion has reached the statutory period within the mission, in accordance with the United Nations guidelines on eligibility, that this distinction is awarded to these peacekeepers, underlines the UNIC, recalling that Morocco supports the efforts of MINSUCA by providing troops but also military observers since December 23, 2014.