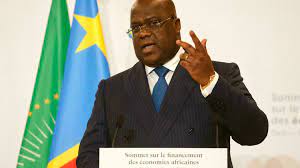 The President of the Democratic Republic of Congo (DRC), Félix Tshisekedi, has taken note of the concerns expressed by an African parliamentary delegation over the dysfunctions of the Pan-African Parliament (PAP).
As part of the African parliamentary initiative launched under the leadership of the Moroccan Parliament, and which led to the organization in Rabat, on July 8, 2021, of a consultation meeting of the Speakers of African national parliaments, a statement adopted by consensus took note of the worrying dysfunctions that have marred the work of the Pan-African Parliament since May 2021, says a press release issued Friday by the Moroccan House of Representatives.
As part of the implementation of the recommendations made through the African Parliaments' statement, a follow-up and conciliation committee was received at an audience, Thursday in Kinshasa, by the President of the DRC, in his capacity as the current President of the African Union.
The Committee was made up of the Speakers and representatives of the parliaments of the DRC, Republic of Congo, Cameroon, Mali, Gambia, Madagascar, Senegal and Gabon, the statement said, adding that the Speaker of the House representatives was represented at this audience by the House Deputy-Speaker, Mohammed Touimi Benjelloun.
On behalf of the Follow-up and Conciliation Committee, Benjelloun shed light on this occasion on the recommendations issued by the consultation meeting held in Rabat, while stressing the need to address the causes and draw all the consequences of the failure of the last session of the PAP, in order to reach a consensual solution, and relaunch the statutory activities of the institution.
The Deputy-Speaker also informed the President of the DRC of the unanimous will of the members of the Committee to reach a compromise, in serenity and cohesion, by reconciling the points of view of each side, in order to avoid rupture and division that may threaten the valuable institutional achievement represented by PAP for the peoples of the African continent.
To this end, the Committee requested the assistance of President Tshisekedi, in order to undertake any process that he deems useful with his peers and the African Union bodies with a view to achieve a happy outcome to the crisis, the press release adds.
For his part, the President of the DRC, while welcoming the initiative of Morocco, expressed his deep regret over what happened at the 4th General Assembly of the PAP. "Such actions give a very bad image for the continent," Tshisekedi said, while urging the members of the Pan-African Parliament to make prevail the high interests of the continent.
Mr. Tshisekedi has undertaken to discuss with the Chairperson of the African Union Commission the organization of a special meeting in which the Bureau of the Conference of Presidents and the Chairpersons of the Regional Economic Communities would "produce guidelines" about the crisis the PAP is going through.