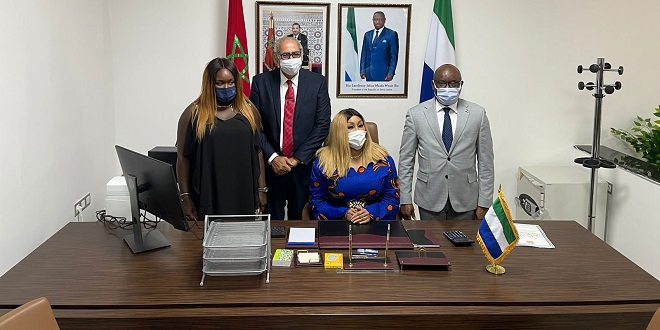 The Consular network in the Moroccan Sahara has been strengthened by the inauguration this Monday of Sierra Leone's Consulate General in Dakhla.
The inauguration ceremony was also marked by the installation of Ms. Zainab Candy as the country's Consul General.
Ms. Candy was installed in her functions by the Ambassador of the Republic of Sierra Leone in Rabat, Mr. Atumanni Dainkeh.
Sierra Leone is thus the 25th country to open a consular representation in the Moroccan Sahara, in a move that translates support to Morocco's sovereignty over its Sahara provinces.
Sierra Leone inaugurated an embassy in Rabat Friday, in the presence of its Foreign Minister David Francis, who had then said that the opening of this diplomatic representation is "a superb demonstration of our commitment and our long-standing partnership."
This diplomatic representation will further consolidate the already "very strong" bilateral relations and help promote the African partnership, underlined David Francis, who expressed thanks to Morocco for its "huge support" to Sierra Leone in different areas, especially during the Covid-19 pandemic.
For Sierra Leone, "the Sahara is a territory under the sovereignty of Morocco," David Francis had said, noting that the opening of a consular representation in Dakhla translates the distinguished relations binding the two countries.
The Sierra Leone official's visit was marked by the signing of a roadmap providing for strengthening cooperation between the two countries in several areas, including education and training; technical cooperation; economic promotion and investments; as well as cooperation in the field of security.