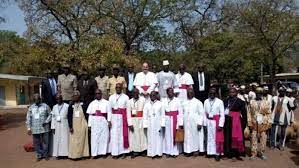 A Cameroonian priest, kidnapped Sunday by separatists in southwestern Cameroon, one of the two English-speaking regions in crisis, has been released.
"After three days in captivity, we are happy to announce that our brother priest, Bishop Julius Agbortoko, has been released without any ransom being paid," the Diocese of Mamfe wrote in a statement.
Armed English-speaking separatist rebels frequently kidnap people, including public figures, and usually release them relatively quickly for ransom or after negotiations.
The vicar general of the parish of Mamfe was kidnapped on Sunday by young men who identified themselves as separatist fighters. They had demanded a ransom of 20 million CFA francs (about 30,000 euros), according to the diocese.
In its statement, the diocese gave no indication as to why the kidnappers finally released the hostage without payment of any ransom.