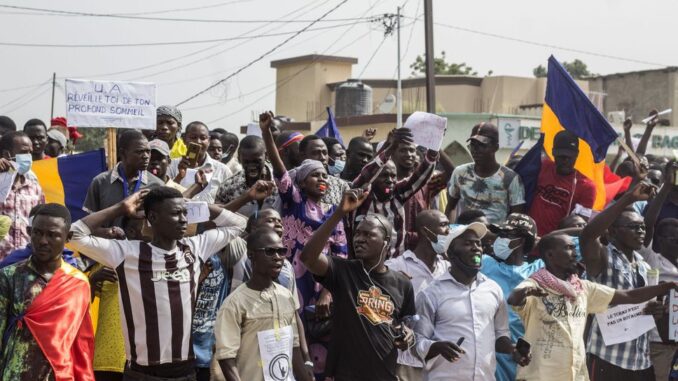 Several hundred people demonstrated this week-end in N'Djamena against the junta that has ruled Chad since the death of Idriss Déby Itno, surrounded by a strong police presence.
Civil society groups have called for demonstrations against the charter of the Transitional Military Council (TMC), headed by Idriss Déby's son, Mahamat Idriss Déby Itno.
These marches, regularly organized since the death of the former president in April, also denounce the attitude of France, the former colonial power, accused by part of the opposition of supporting the new power.
"Chad is not a kingdom," and "No to France's support for the Déby father and son system," were some of the words written on the demonstrators' posters. The march was authorized by the authorities. The demonstration, supervised by a massive deployment of police, took place in a calm atmosphere.
"We are marching today to demand the revision of the charter governing the transition and to denounce the decrees setting up the non-inclusive dialogue committees," said Max Loalngar, spokesman for Wakit Tamma, an opposition platform. Since announcing the death of President Déby on April 20, Mahamat Idriss Déby Itno, 37, has promised "free and democratic" elections following a national dialogue designed to reconcile all Chadians.
The transition period is 18 months renewable, but the junta has not ruled out an extension. Mahamat Idriss Déby holds almost all the power and has assumed the titles of president of the republic and supreme commander of the army.