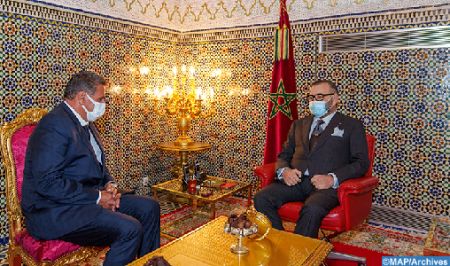 King Mohammed VI has approved this Thursday the cabinet formed by Aziz Akhannounch, head of the liberal National rally of Independents, who has been appointed head of the Government in the morrow of the September 8 general elections.
During the ceremony held at the Royal Palace in Fez, the Sovereign was flanked by Crown Prince Moulay El Hassan and Prince Moulay Rachid.
The new cabinet, formed by the three winners in the parliamentary election, namely the RNI (102 seats), the PAM (87 seats), and the Istiqlal Party (81 seats), is made up of 24 highly qualified ministers, including seven women.
Some ministers with no party affiliation retained key portfolios as in the outgoing cabinet, such as Abdelouafi Laftit in the Ministry of the Interior; Nasser Bourita in the Foreign Ministry, Ahmed Taoufiq in the Ministry of Endowments and Islamic Affairs; Mohamed hajoui as Secretary General of the Government; and Abdellatif Loudiy as Junior Minister in charge of the Administration of National defense.
As an evidence of the importance granted to women and the trust they enjoy when it comes to the management of public affairs, the new cabinet features seven women ministers, four from the RNI, two from the PI, and one from the PAM. These are Nadia Fettah Alaoui (RNI) who is in charge of the Ministry of Economy & Finance; Fatima Zahra Ammor (RNI) who heads the Ministry of Tourism, Handicraft, and social and solidarity economy, Awatif Khyar (PI) who is Minister of Woman, family and Social integration; Fatima ezzahra El Mansouri (PAM), who becomes Minister of housing and city policy; Nabila Rmili (RNI) who will be in charge of the Ministry of Health and Social Protection; Leila Benali (RNI) who will be in charge of the ministerial department of energy transition and sustainable development; and Ghita Mezzour (PI) as Junior Minister in charge of digital transition and administration reform.
In the new cabinet, the RNI holds eight portfolios, the PAM, which participates in the government for the first time since its creation, heads six ministerial departments, while the PI holds 4 portfolios.
Secretaries of State in some ministerial departments will be appointed later.
The newly appointed members of the government were sworn in before the King.
The new government coalition, which gives Akhannouch a comfortable majority of 270 seats in the 395-seat parliament, is based on common points in the platforms of the three parties, Akhannounch had said in a recent statement to the media, underlining that the government to be formed would work to achieve social and economic development goals in line with the new development model, spurred by King Mohammed VI, and which aims notably at bolstering growth, reducing poverty and disparities, and promoting social justice and the efficiency of the civil service.
The opposition is left to socialist USFP, conservative popular Movement, liberal Constitutional Union, and other small parties that now include the Party for Justice and development (PJD) which hardly gleaned 13 seats in parliament compared to 125 in the 2015 elections.