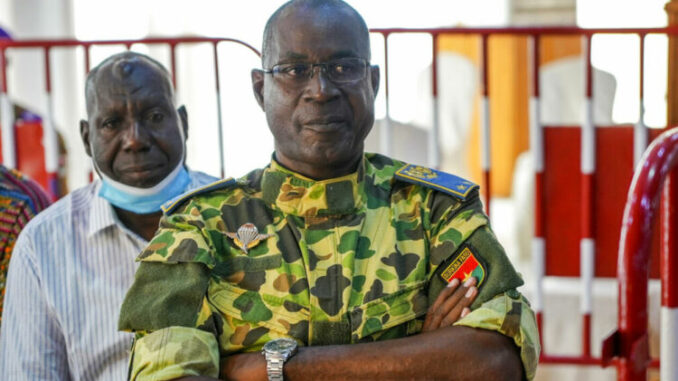 General Gilbert Diendéré, one of the main defendants in the trial of the alleged killers of former Burkinabe President Thomas Sankara 34 years ago, pleaded not guilty on Tuesday before the military court in Ouagadougou.
The officer, one of the main leaders of the army during the 1987 putsch, is prosecuted for "attack on state security" "complicity in murder" "concealment of corpses" and "subordination of witnesses".
"For all of these four charges, I plead not guilty," he said on the stand, standing in military fatigues.
The general then recounted his day on October 15, 1987, the date of the coup in which Thomas Sankara and 12 of his companions were killed.
He explained that he had gone in the afternoon to the "sports ground" of the headquarters of the military command of the National Council of the Revolution (CNR, in power), when he "heard gunshots".
He said he spoke with two soldiers he knew who explained the situation to him. They told him they had "taken the lead to prevent" Thomas Sankara from arresting their "boss," Blaise Compaoré, who took power after the October 15 coup.
Mr. Compaoré, Sankara's right-hand man, is being prosecuted on the same charges as Mr. Diendéré and is suspected of being the mastermind of the assassination, which he has always denied.
Mr. Diendéré corroborates this version by recounting his conversation with the two soldiers. "I asked if Blaise was aware of what they had done, and they answered in the negative," he explained on the stand.
According to him, Blaise Compaoré only arrived at the scene in the late afternoon, three hours after the attack.
Chased from power in 2014 by the street, Blaise Compaoré lives in Côte d'Ivoire and is the great absentee of this trial. General Diendéré is already in detention: he is serving a 20-year prison sentence for a coup attempt in 2015.